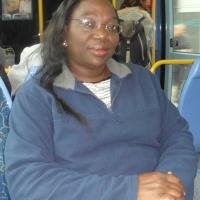 Olubukola Oluranti Babalola
Africa
Nigeria
Indigenous innovative cutting edge science: for the world, by the women.
Program
From Prof. Babalola's nominator, Abeer Ahmed Qaed Ahmed:
"Prof Babalola has a passion for science, demonstrated by her active research and teaching, and her track record supervising students at undergraduate and postgraduate levels across nations.
Over 75 scholars of microbiology have graduated under her research mentorship.
Babalola is the Director of Food Security and Safety Niche Area and was once the Head of the Department of Biological Sciences, North-West University, South Africa. Her administrative experience is proven.
She is a go-getter. She is the epitome of an African female research scientist. She has an uninterrupted track record. She is a competent program manager and team leader. She has the abilities and diplomacy to conduct any collaboration between organizations. She has the networking skills to stay connected with other scientists, especially female scientists. In her lab I met many international young female scientists that she hosted for a period of time, or for postgraduate and postdoctoral program. 
Prof. Babalola is a full member of the Organization of Women Scientists for the Developing World, South African Women in Science and Engineering (SAWISE) and the South African Association of Women Graduates (SAAWG) among others.
She was supported by OWSD for her PhD degree. I worked with her for one year to do research together, and observed that she encourages and helps girls to improve themselves and pursue higher education. She always give advice to girls in how to manage their lives and dreams. I personally learned many things from her. I know that she has many goals that are in line with OWSD's, and I believe that she can accomplish even more goals and help girls and female scientists as an OWSD EB member."