The 2018 OWSD-Elsevier Foundation Awards for Early-Career Women Scientists in the Developing World are announced in Austin, Texas
February 15, 2018
Early-career researchers living and working in Bangladesh, Cameroon, Ecuador, Guyana, and Indonesia have been recognized for their work in mathematics, physics and chemistry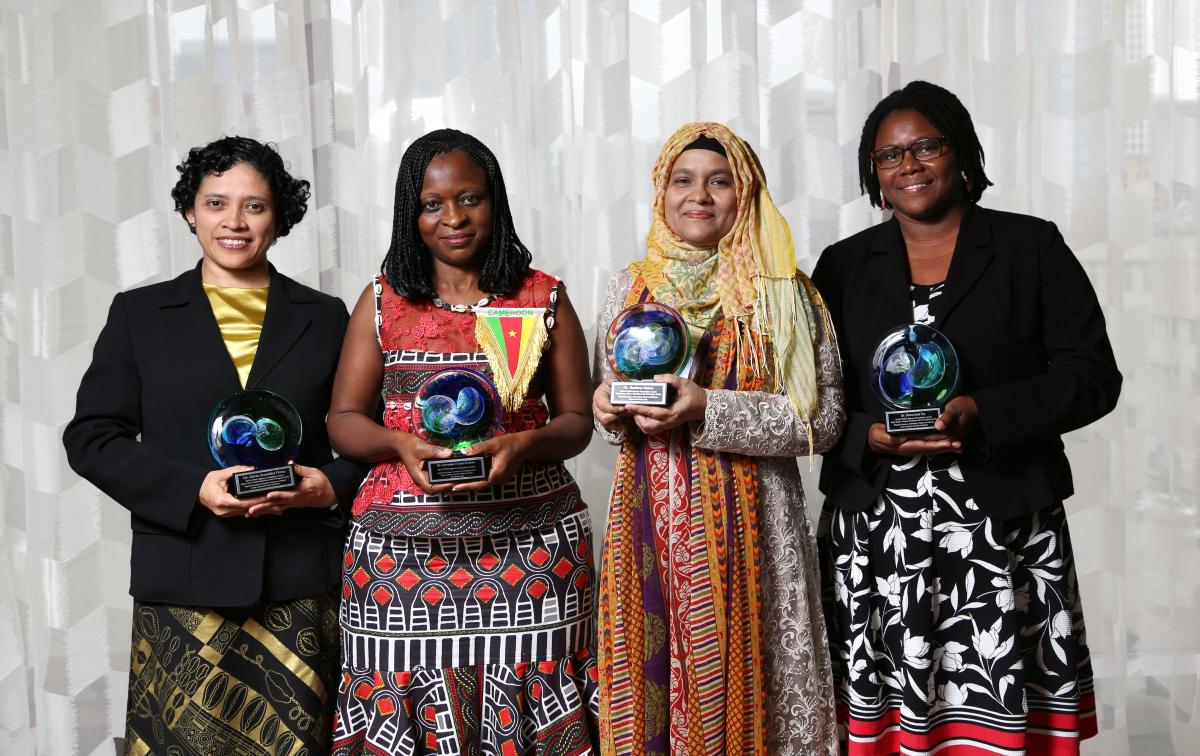 Photo credit: Alison Bert, Elsevier
For live updates on the 2018 OWSD-Elsevier Foundation Awards, read the story on Elsevier Connect. 
On 15 February, the five winners of the 2018 OWSD-Elsevier Foundation Awards for Early-Career Women Scientists in the Developing World were announced in Austin, Texas. The winning scholars from Bangladesh, Cameroon, Ecuador, Guyana, and Indonesia are being recognized for their accomplishments in the physical sciences -- specifically, applied mathematics, physics, theoretical and computational chemistry, environmental and material chemistry, and organometallic and coordination chemistry. As well as leading and mentoring young scientists in their respective disciplines, the scientists are also recognized for their commitment to improving lives and livelihoods in their communities and regions.
"These scientists are living proof that, if given the opportunities and support, women all over the developing world can become leaders in their field.  I salute them all and commend them for their commitment to their fields of study and to the improvement of the lives of men, women and children in their communities. They serve as role models for all young girls and women aspiring to achieve success in their fields," said Jennifer Thomson, President of the Organization for Women in Science for the Developing World (OWSD).
The five researchers are:
Hasibun Naher of BRAC University in Bangladesh (Central and South Asia Region); in applied mathematics;
Germaine Djuidje Kenmoe of the University of Yaounde 1 in Cameroon (Sub-Saharan Africa Region); in physics;
Silvia González Pérez of Universidad Técnica Particular de Loja in Ecuador (Latin America and the Caribbean Region); in theoretical and computational chemistry;
Dawn Iona Fox of the University of Guyana (Latin America and the Caribbean Region); in environmental and material chemistry; and
Witri Wahyu Lestari of the Universitas Sebelas Maret, Surakarta in Indonesia (East and South-East Asia and the Pacific Region); in organometallic and co-ordination chemistry.
"From tsunami simulation to improving energy efficiency and the quality of drinking water, these scientists are actively tackling some of the biggest challenges facing their communities," added Ylann Schemm, Director of the Elsevier Foundation. "The Elsevier Foundation is proud to partner with OWSD and AAAS in celebrating the successes of these women, persevering in the face of often acute resource and gender-related challenges."
The awards are part of a 7-year partnership between OWSD and the Elsevier Foundation. OWSD chairs a panel of distinguished scientists to select the winners, and the Elsevier Foundation supports a cash prize for each winner of USD $5,000 and an all-expenses-paid trip to attend the 2018 Association for the Advancement of Science (AAAS) Annual Meeting, this year in Austin, Texas, February 15-19, 2018. The five winners will be honored on 17 February at a special breakfast ceremony during the AAAS meeting.
For more information on each awardee and her research, as well as media contacts and information about the Awards Ceremony, please see the full press release on the Elsevier website.