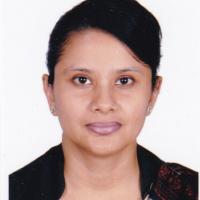 Hasin Azhari Anupama
Asia & Pacific
Bangladesh
I would like to make the position of the Bangladesh OWSD chapter remarkable through more women scientists participating in all activities.
Program
What role do you see OWSD playing globally/ in your region/ in your country?
The total number of women members has to be increased in the regions. On behalf of Asia Pacific region I will need to contact with different donors to increase the fund for the fellowship, training program. The each women society of each Asia Pacific region activities, program need to be monitored and on the basis of that we can make a plan to develop the women society.
What kind of activities do you see as useful for OWSD to undertake (e.g. academic training, working with teachers, mentoring, networking)?
The members of each region are in different subjects and profession. Academic training for the teachers as well as students are mandatory for development educational system. Combined research work can be possible. Through this work networking can be done.
What kind of activities have you undertaken to support women in science in your country/ region?
We can write in different media like electronic media, newspaper to make awareness in the women. Also we will contact different organization for fellowship, funding source to support women in science.
What difference will you make to OWSD?
I will try to increase number of women scientists in my country Bangladesh . Also I would like to make remarkable position of Bangladesh in OWSDW chapter through participating more women scientists in all activities