Article: Women, science and development: The leading role of OWSD
February 18, 2020
An editorial by OWSD leaders brings attention to the organization's mission and upcoming General Assembly.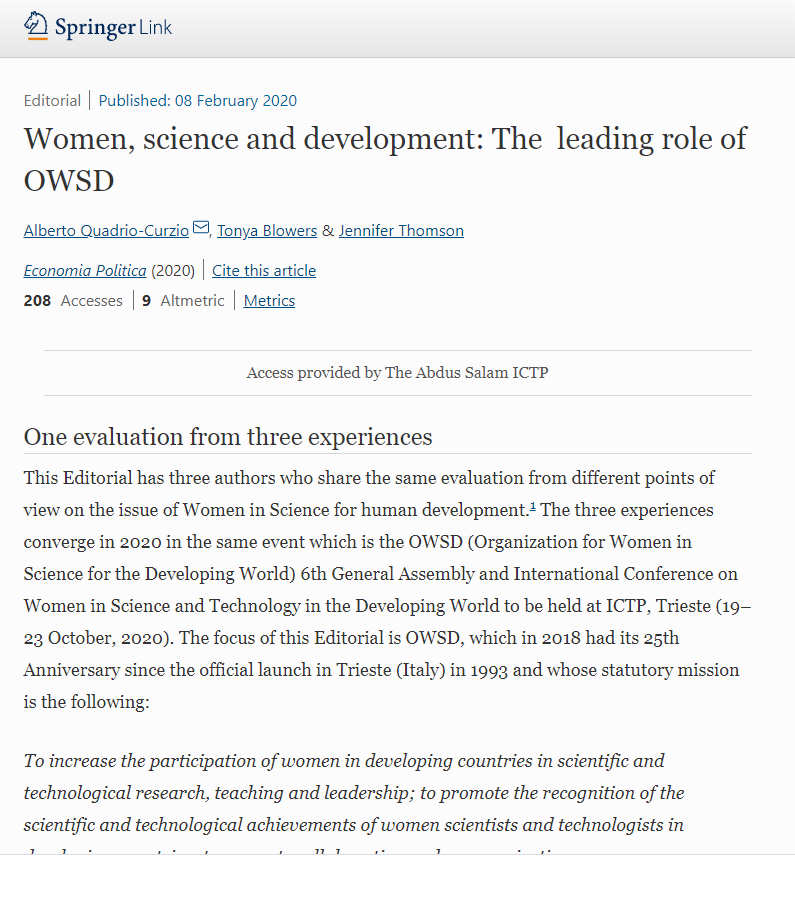 An editorial published in the Springer journal Economia Politica on February 8, 'Women, science and development: The  leading role of OWSD,' explores the various aspects of scientific capacity building addressed by each of OWSD's three major programmes (PhD Fellowships, Early Career Fellowships, and Awards) as well as its membership base. The article's authors are OWSD President Jennifer Thomson, OWSD Programme Coordinator Tonya Blowers, and Alberto Quadrio Curzio, Professor Emeritus of the Università Cattolica in Milan, Italy and President Emeritus of the Accademia Nazionale dei Lincei in Rome, as well as the first OWSD Ambassador. 
The editorial examines how OWSD's support of women scientists in developing countries is contributing to helping these countries to establish knowledge-based economies and to meet the Sustainable Development Goals, through four areas of focus: (1) community; (2) mobility; (3) capacity; and (4) visibility. OWSD's strong membership (with more than 9000 members as of 2020), PhD Fellowships, Early Career Fellowships, and Awards programmes address each of these issues, respectively. 
The article also discusses the upcoming OWSD 2020 General Assembly and International Conference, which for the first time will be held in Trieste, Italy, home of the OWSD Secretariat, in order to coincide with Trieste's being the European City of Science for 2020 and host of the EuroScience Open Forum. This will be an important opportunity for OWSD — and its members who attend the conference — to connect with the Italian and European research communities and increase the visibility of the organization on an international level.
The full editorial is available for download below, or can also be viewed on SpringerLink.