OWSD Fellows Attend Gender, Science and Water Workshop in Trieste
December 03, 2015
Four OWSD Fellows from Kenya, Sudan, Zimbabwe and Yemen have been selected to attend a 5-day Science Diplomacy Workshop on Sustainable Water Management hosted by TWAS, the World Academy of Sciences.The idea is to introduce participants to the major concepts and policy issues relating to science diplomacy and sustainable water management, such as the use of shared rivers and underground aquifers, cross-border pollution issues, and safe drinking water.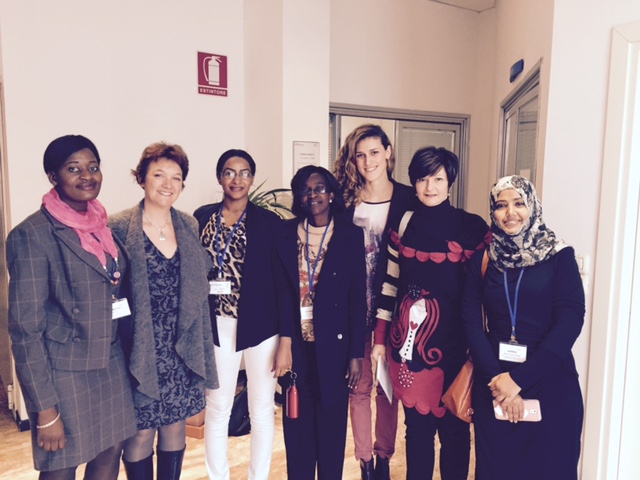 Jordanian rivers, for example, are at the heart of science diplomacy since they know no political boundaries but often cross borders with countries in conflict: Syria, Israel and the Palestininan territories, Saudi Arabia and Iran. Guest Lecturer, Mysoon Eid Hasan Al-Zoubi an engineer from Jordan, talked about how her country's government and scientists need to negotiate with ther counterparts in neighbouring countries in order to make sure there is enough drinking water for the ever-increasing Jordanian population, which has always welcomed refugees from all its neighbours.
Four OWSD Fellows who are specialising in water issues from different disciplines were selected to attend the workshop. 
Kenyan researcher Emily Chemoiwa has been the lead investigator on projects on water quality, pollution distribution and the diversity of fish species in the Lake Victoria Basin which covers five Eastern African countries, Kenya, Uganda,Tanzania Rwanda and Burundi. Emily was awarded an OWSD  sandwich fellowship in 2011 to study at the University of KwaZuluNatal in South Africa.
Nothando Dunjana teaches undergraduate students in her home country of Zimbabwe, at the Marondera College of Agricultural Science and Technology. She specialises in soil science, soil physics, soil fertility and water management for the sustainable production of crops. Like Emily, Dunjana was also awarded an OWSD sandwich Fellowship at KwaZuluNatal which she took up in 2015.
Two more OWSD Fellows were selected by our partner organization, GenderINSITE, to attend a special 'breakout group' on gender, science and water.
Abeer Qaed Ahmed from Yemen is doing research on water treatment in South Africa to improve water quality and security. Ahmed received her PhD fellowship fom OWSD in 2008 to study the anti-bacterial activity of plant extracts on antibiotic resistant bacteria and developing new natural drugs at the Chengdu Institute of Biology at the Chinese Academy of Sciences.
Dalia Saad from Sudan is conducting research in the field of nanotechnology for water purification and water sustainability. Dalia received her OWSD Fellowship in 2009 and studied wastewater management and recovery at the University of Witwatersrand in South Africa.
GenderInSITE are hosting the workshop on 'Applying a Gender and Science Lens to Water Issues' in parallel with the Science Diplomacy Workshop.  The GenderInSITE workshop will invite an international group of water researchers to consider what happens to their research design and priorities if they consider how women and men might use and view the issues differently.
Over the 4-5  day course, participants will attend keynote presentations on international sustainable water management as well as take part in breakout groups to develop main messages for decision makers and policy leaders in the area of gender and water. The group will also look at the United Nations Sustainable Development Goal 6, "Ensure availability and sustainable management of water and sanitation for all," and examine how targets and indicators for this goal might be designed to incorporate a gendered perspective.