| | | |
| --- | --- | --- |
| | The OWSD newsletter brings you the latest news and announcements from the Secretariat and from our international network. In this edition, we meet the newly awarded OWSD PhD fellows, follow our 2022 OWSD-Elsevier Foundation awardees as they accept their awards at the EuroScience Open Forum in the Netherlands, meet an Early Career fellow working to find a locally available treatment for COVID-19 in African populations, and more. | |
2022 OWSD PhD Fellows announced
| | | |
| --- | --- | --- |
| | OWSD is happy to introduce the 22 women who have been awarded the 2022 PhD Fellowship. The new fellows come from 16 developing countries across Africa, the Arab region, and Asia, and will be supported to pursue their PhDs in STEM subjects at institutions throughout the Global South. Their research ranges from the effects of climate change on river flow in Tanzania, to deep learning for tracking developmental disabilities in developing countries, to researching the associations between genotypes and the severity of COVID-19 in Palestinian populations. | |
I would like to express my sincere gratitude to OWSD and the Swedish International Development Cooperation Agency (SIDA), without which this Ph.D. experience would have been just a dream. It is worth mentioning that OWSD was not just a financial support in which their only presence was to pay the bills (the tuition fee, the stipends, the ticket flights, the visa fee, the health insurance…etc). This organization stands by the fellow and provides support and protection. They gave me the freedom and the strength to step back when I had to, also to change, and to overcome any personal or professional difficulties along the journey without questioning any of my decisions. They stand by the core value of their existence: to promote and to keep women in science. The fellow's success is their success, the fellow's failure is their failure, for the simple reason that OWSD cares.

Dora Rajonhson, Madagascar - 2016 OWSD PhD fellow (graduated March 2022)
Meet the OWSD Fellows
Pamella Kilavi




Pamella Kilavi is a 2018 PhD fellow based at the University of Nairobi, Kenya, currently completing a sandwich fellowship at University of the Witwatersrand, South Africa. Her PhD research is focused on investigating the risks from naturally occurring radioactive materials and heavy metals that are enhanced by mining and other anthropogenic activities; find out why she hopes to one day sit in boardrooms and on regulatory committees.
Raquel Matavele Chissumba




When the COVID-19 pandemic struck the globe in 2020, immunologist Raquel Matavele Chissumba, an OWSD Early Career fellow from Mozambique, decided to take matters into her own hands to help find a locally available treatment. Her work will not only contribute to a better understanding of how the virus affects tropical African populations, but has generated a national interest in locally-conducted science.
In this corner we highlight some of the most exciting recent achievements of our fellows, alumnae, and awardees. Way to go, ladies!




Chioma Blaise Chikere, a 2005 PhD fellow from Nigeria, was promoted to Professor of Environmental Microbiology & Biotechnology at the University of Port Harcourt, as well as Director of the Entrepreneurship Centre at the university. She was also recognized by the Elsevier Foundation and SciDev.Net in August 2022 as an iconic women scientist in Chemistry for Climate Action research in the Global South, and was profiled as one of nearly 100 global risk practitioners by Sense about Science during the Euro Science Open Forum 2022 in May.


Christelle Dzesse Tekouo, a 2013 PhD fellow from Cameroon, was selected for the fall 2022 TechWomen programme from the U.S. Department of State's Bureau of Educational and Cultural Affairs (ECA) and the Institute of International Education (IIE). The 108 women selected as emerging leaders from more than 3,200 applications will spend 5 weeks in the U.S. engaged in mentorship and exchange programming starting from September 2022. She was additionally awarded a career development grant by the Royal Society of Chemistry to support her research in Cameroon.


Edwige Feulefack Songong, a 2017 PhD fellow from Cameroon, published a paper, 'A parametric study of the vibration of beams resting on elastic foundations with nonlinear cubic stiffness,' in Current Perspectives and New Directions in Mechanics, Modelling and Design of Structural Systems - Proceedings of The Eighth International Conference on Structural Engineering, Mechanics and Computation, the proceedings of the SEMC2022 conference held in Cape Town, South Africa in September 2022.


Claire D'Andre Hirwa, a 2018 Early Career fellow from Rwanda, was awarded a new grant under the Women in Science Research and Innovation Grant Scheme published by the Rwandan National Council for Science and Technology (NCST) in September 2022. She was also awarded the NCST Rising Star Award for her innovation in creating scientific and technological solutions useful to Rwandan society in the field of livestock


Asmaul Husna, a 2017 PhD fellow from Bangladesh, was awarded 3rd prize in the 3 Minute Thesis competition at the School of Biological Sciences, Universiti Sains Malaysia. She additionally presented two papers, 'Molecular and Pathogenic Characterization of Fusarium species associated with bakanae-like disease in rice from Malaysia', at the NAIST-UM-USM-UTAR Joint Symposium on Bioscience and Biotechnology, and 'Fusarium longipes as the potential pathogen associated with rice root rot disease in Malaysia', at the 11th International Conference on Plant Protection in the Tropics.


Sahar Gamal Elbager Mohamed,a 2016 PhD fellow from Sudan, has been selected as one of the African Science Frontiers Initiatives (ASFI) Ambassadors.


Marian Nkansah, a 2021 OWSD-Elsevier Foundation Award winner, was selected as a reviewer for the Next Gen Science Session of the 71st Lindau Nobel Laureate Meeting, which took place in May 2022. She was also named Deputy Director of Students Affairs (Housing and Welfare) of the Kwame Nkrumah University of Science and Technology (KNUST) in June 2022.


Naumih Noah, a 2020 Early Career fellow from Kenya, was elected in May as an Executive board member and director of the Commonwealth Chemistry, a federation of Commonwealth Chemical Sciences Societies whose mission is to champion equal opportunity for all, drive innovation and promote excellence in the chemical sciences for the benefit of the Commonwealth nations and their people. She will be 12 executive board members from different countries on the board, representing Kenya through the Kenya Chemical Society (KCS) where she serves as the Organizing Secretary for the Nairobi Chapter.


Felicia Obiageli, a 2008 PhD fellow from Nigeria, was promoted to Full Professor of Mathematics at the University of Nigeria, Nsukka. She was also appointed Head of the Department of Mathematics. She is the first female professor of mathematics and the first female head of the mathematics department in the university.


Meththika Vithanage, a 2018 Early Career fellow from Sri Lanka, was awarded the Most Outstanding Senior Researcher in Physical Sciences, 2022, by the Committee for Vice Chancellors and Directors (CVCD) of Sri Lanka. CVCD awards are given to recognize and honour the outstanding contributions, accomplishments and impact made by academic staff in the Sri Lankan state University system.
OWSD Around the World

Here are a few recent highlights from our network of 51 active National Chapters.

New National Chapter
launched in Paraguay




In August 2022, Paraguay became the 51st country to establish an active OWSD National Chapter. The Paraguay National Chapter is the 15th in the Latin America and Caribbean region, all established since 2019. It is hosted by the organization Red Iberoamericana de Investigadores en Micología, RIIMICO (Ibero-American Network of Researchers in Mycology).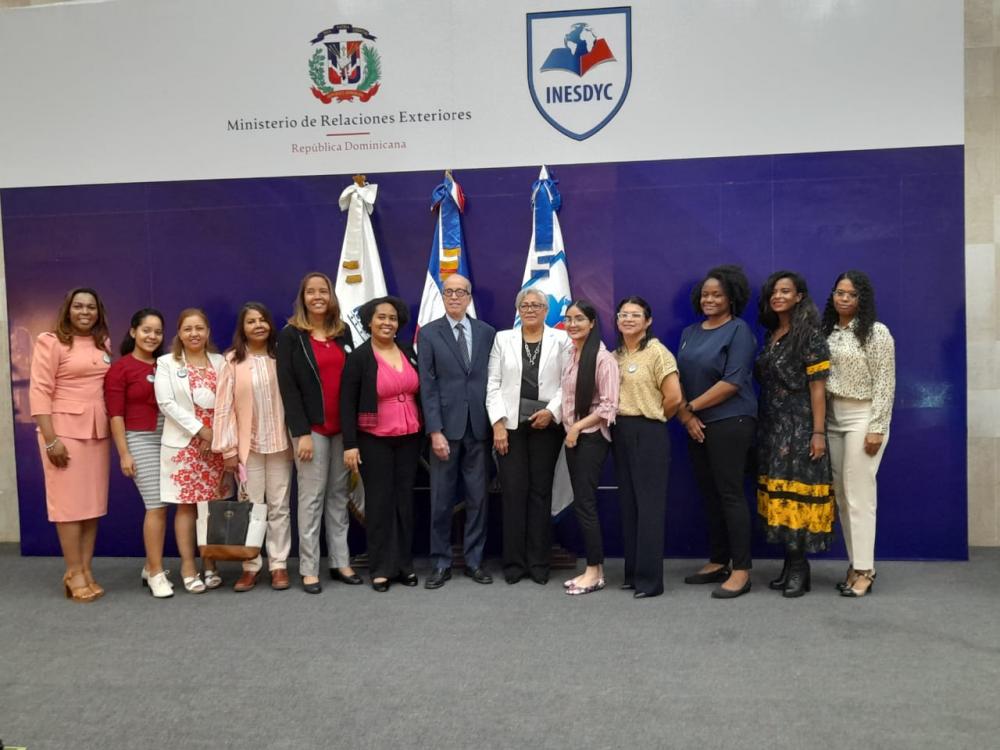 The OWSD Dominican National Chapter with partners and supporters at their launch event in July 2022.
That's it for this edition - if you like this newsletter, please share it.
---
Copyright © 2021 The Organization for Women in Science for the Developing World
All rights reserved.

Follow us for more updates:

www.owsd.net

Click here to unsubscribe from this list.