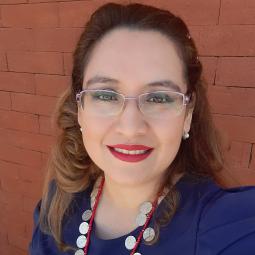 Membership type: full
Margarita Alonzo Argueta
Country of origin: Guatemala
Currently in: Guatemala, Fraijanes
General field of specialization: Structural, Cell and Molecular Biology
---
Academic Background

Degrees

2010 Master Social and Economic Sciences

2006 Undergraduate Structural, Cell and Molecular Biology

Research and Profession

Current Research Activities

Other

Promoting women political participation in Guatemala since 2012. Currently developing a political project to train women to run for local governments and reduce violence against women in politics through a multi partisan alliance with civil society and international organizations. Negotiating law projects to reform electoral law in Guatemala. As intellectual property advisor, designing policies about compulsory licensing and access to medicine in Guatemala according with TRIPS and WTO regulations. Member of the OWSD/INASP Project: Engaging Guatemalan scientific diaspora for development.

Publications resulting from Research:

• Bonilla, K.; Cabrera, J.; Calles-Minero, C.; Torres-Atencio, I. Aquino, K.; Renderos, D. & M. Alonzo. "Participation in Communities of Women Scientists in Central America: Implications From the Science Diplomacy Perspective". Frontiers in Research Metrics and Analytics. Vol. 6. 2021. Pages 27. URL=https://www.frontiersin.org/article/10.3389/frma.2021.661508.
DOI=10.3389/frma.2021.661508; ISSN=2504-0537.

• Alonzo, M. Intellectual Property in access to genetic resources in Guatemala. July 2010. Journal of the American Network of Experts on Industrial Property. American Institute of Securities & Markets and CEDDET Foundation. Madrid.


Current profession

Current professional activities type:

Working for the Ministry of Economic Affairs at Intellectual Property Office, Head of Substantive Examination Section, have experience as patent examiner for biotechnology and microbiological patents, compulsory licensing analysis for patents and public health, new plant varieties and genetic resources for IP.

Workshop and Conference Attended

2020 Guatemala Violence against women in politics training

2020 Sao Paulo, Brazil Advanced School of Innovation and Science Diplomacy.

2021 Guatemala Electoral politics from women

2018 Merida, Mexico Political Competence and XXI Century Humanism. by the Regional Program of Democracy and Political Parties for Latin America. Konrad Adenauer Foundation. Rafael Preciado Foundation

2018 USA XX Regional Seminary about PCT for Latin America. USPTO, WIPO

2017 Vienna Training Course on Patent Information and Documentation APO, EPO, WIPO

2015 Rio de Janeiro, Brazil Patent examination course for Latin American Examiners.

2009 Geneva 13 th Session of Standing Committee on Patent Law, SCP, World Intellectual Property Organization

2009 Panama Guidelines for the examination of pharmaceutical patents from a public health perspective. UNDP, WHO

Affiliations

Vital Voices Global Partnership

Association of Pharmaceuticals and Chemists of Guatemala

Guatemalan Forum of Women from Political Parties, FGMPP

Konrad Adenauer Foundation alumni network

Presentation given

2014

Women Political Participation in Guatemala

Ohio, USA

Event: McDonough Leadership Conference

2010

Access to Genetic Resources and the importance to Intellectual Property in Guatemala

Guatemala

Event: National dialogue about Genetic Resources, Traditional Knowledge and Traditional Cultural Expressions

2009

Access to genetic resources in Guatemala

Costa Rica

Event: Central American Dialogue on Access to Genetic Resources, organized by GTZ and ICTSD

2007

Budapest treaty in Guatemala

Mexico

Event: Regional Seminar on the Budapest Treaty on the International Recognition of the Deposit of Microorganisms for the Purposes of Patent Procedure and its Implementation. WIPO / IMPI

2021

Challenges for women in politics in Guatemala

Guatemala

Event: Virtual Dialogue: Women in action in political sceneries. Women Democracy Network

2021

Intellectual property for biotechnological innovations

Guatemala

Event: II National Congress of Biotechnology

2020

Actions to reduce violence against women in politics in Guatemala

Chile/virtual

Event: International Discussion: Violence Against Women in Politics. Latinamerican Women in Politics Network

2020

Biotechnological innovations protection

Guatemala

Event: National Congress of Biotechnology

2016

Intellectual Property and Biotechnology

Guatemala

Event: International Biotechnology Symposium, National Week of Science and Technology, Secretary of Science and Technology of Guatemala, SENACYT.

Prizes, Grants and Awards

Other Awards

Jun 2018

VVEngage Fellowship

Selected as one of the 22 women leaders in politics to a one year fellowship in the first cohort of the Vital Voices VVEngage program, metored by former heads of state members of the Women World Leaders Council, and trained by VV Staff and proffessors of Harvard Kennedy School, to develop skills to engage more women to run for public seats.

Nov 2018

Fellow at Regional Program of Political Parties by Konrad Adenauer Foundation

Selected as one of the 35 young leaders in politics in Latin America to attend to a one week training in Mexico to learn about democracy and campaign management focused on christian democratic values

Feb 2015

VVLead Fellow

Selected to be part of the 3rd cohort of women leaders because of my work promoting women political participation in Guatemala, to attend one year online training, including the South-South exchange in South Africa focused on learn, connect, collaborate and create with other women across the globe to get more women as decision makers.

Mar 2014

6th Andi Parhamovich Fellow by National Democratic Institute

NDI's Andi Parhamovich Fellowship, an annual award that brings one woman for three months to conduct research for a project geared toward building democracy and increasing women's political participation in her own country. The fellowship was open to all Guatemalan political parties , as well as NDI partner groups across Latin America and the Caribbean and Eurasia. Following a competitive review process, Alonzo won the global competition with a plan to develop a program to help more Guatemalan women run for office, get elected and government

Jul 2000

National Team Member at the 41st IMO

Member of the Guatemalan team at the 41 IMO, International Mathematic Olympiads, in South Korea.

Jul 1999

National Team Member at 40th IMO

Member of the Guatemalan team at the 40th IMO, International Mathematic Olympiads, in Romania

Nov 2017

Advanced International Certificate Course on IP Asset Management for Business Success by KIPO-WIPO-KAIST-KIPA

One of the 15 top intellectual property experts globally to attend the International Certification on Intellectual Property Management by KIPO-WIPO-KAIST-KIPA in Seoul, South Korea.