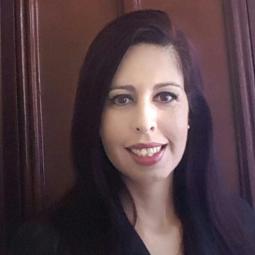 Membership type: full
Rebeca Elisa Calderón de Currlin
Country of origin: El Salvador
Currently in: El Salvador, Santa Tecla
General field of specialization: Social and Economic Sciences
---
Academic Background

Degrees

2011 Master Social and Economic Sciences

2023 Undergraduate Social and Economic Sciences

Research and Profession

Current Research Activities

Social and Economic Sciences

En proceso de la elaboración de la tesis: "Análisis de la aportación del surf a la construcción de la diplomacia deportiva en El Salvador" Actividades de cultura y educación ambiental Comunicación persuasiva para la difusión de actividades relacionadas al medioambiente

Publications resulting from Research:

Tesis para la obtención del grado de maestra en comunicación:

Calderón, R. (2011) Análisis del los documentales salvadoreños "UNO, la historia de un gol" y "La última ofensiva" dentro de la lógica de las industrias culturales. Tesis de post grado.
https://www.uca.edu.sv/gescom/wp-content/uploads/2017/03/tesis9.pdf


Current profession

Current professional activities type:

Research

Administration

Teaching

Coordinación de comunicaciones en el Fondo de Inversión Ambiental de El Salvador, FIAES. Educación y cultura ambiental. Diplomacia deportiva.

Workshop and Conference Attended

2019 Mérida, México 21° Congreso RedLAC (Red de Fondos Ambientales de Latinoamérica y El Caribe): El futuro de las finanzas para la conservación

Affiliations

Universidad Pedagógica de El Salvador

Prizes, Grants and Awards

Other Awards

May 2003

Menciones honoríficas al obtener el título de licenciatura en comunicación: "Mejor promedio de notas", "Mejor licenciado" y "Mejor tesis".

Los reconocimientos académicos fueron otorgados por el Instituto Especializado de Educación Superior, "Escuela de Comunicación Mónica Herrera", por el mejor desempeño académico durante los 5 años de carrera, por haber elaborado el mejor trabajo de tesis, titulado: "Manual de comunicación para el tratamiento del tema de la discapacidad con énfasis en los medios escritos".

Oct 2011

Mención sobresaliente CUM LAUDE

Mención especial por desempeño académico, otorgada por la Universidad Centroamericana Dr. José Simeón Cañas (UCA), al obtener el título de maestra en comunicación.