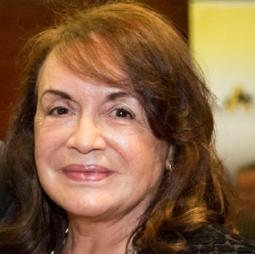 Membership type: full
Angela S. Camacho Beltran
Country of origin: Colombia
Currently in: Colombia, Bogotá D.C.
General field of specialization: Physics
---
Academic Background

Degrees

1977 Doctorate Physics

Research and Profession

Current Research Activities

Physics

Optical and electronic properties of quantum dots and quantum wells. Coupling mechanisms between dots, and between wells and with the phonons of the environment. Ultrafast dynamics in these systems. New meta-materials based on quantum dots

Prizes, Grants and Awards

Other Awards

Oct 2003

ACAC National Award for Excellence in Research (Premio Nacional a la Excelencia en Investigación)

Se otorga a un investigador o a una investigadora que haya conseguido, con su grupo, aportes significativos al desarrollo de la ciencia en Colombia.

Nov 2014

Orden Policarpa Salavarrieta

El municipio de Guaduas creó la Orden Policarpa Salavarrieta con el fin de honrar y enaltecer los valore de la mujer colombiana que ha contribuido al mejoramiento y desarrollo y otorga este premio a Angela Stella Camacho Beltrán por su encomiable desempeño profesional y meritoria labor como Física e Investigadora

Jun 2018

Investigador Emérito

Condecorada por Colciencias por toda su trayectoria profesional a la investigación, haciendo aportes fundamentales a la ciencia nacional; y haber desarrollado actividades, espacios y producción, fortaleciendo el quehacer científico y académico colombiano en las últimas décadas.