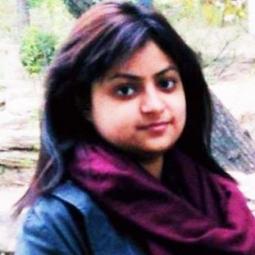 Membership type: full
Madiha J. Ghani
Country of origin: Pakistan
Currently in: Pakistan, Faisalabad
General field of specialization: Structural, Cell and Molecular Biology
---
Academic Background

Degrees

2013 Master Other

2011 Undergraduate Other

2021 Doctorate Structural, Cell and Molecular Biology

Research and Profession

Current Research Activities

Structural, Cell and Molecular Biology

Protein-protein interactions are key to organizing cellular processes in space and time. The serum and glucocorticoid-induced kinase 1 (SGK1) is a serine and threonine (S/T) protein kinase that belongs to AGC (cAMP-dependent, cGMP-dependent, and protein kinase C) kinase family. SGK1 regulates numerous ion channels and transporters in particular the epithelial sodium channel (ENaC) in the kidney. The secondary structure of SGK1 does not contain a transmembrane domain rather predicts a soluble protein that should localize in the cytosol. However, SGK1 strongly associates with microsomal membranes specifically, with the endoplasmic reticulum (ER). This property is conferred by an amphipathic α-helix at the amino terminus of SGK1. Localization of SGK1 to the ER is essential for keeping intact its biological functions suggesting that important phosphorylation targets of the kinase might be constitutive ER resident proteins or recruited to ER membranes. The aim of this research project is to identify the protein(s) that bind and retain SGK1 associated to the inner phase of the ER and second, to identify other interacting partners some of which may constitute substrates of SGK1 phosphorylation. To that end, various protein crosslinking strategies complemented with mass spectrometric analysis will be used. This study is relevant to identify substrates for downstream SGK1 signaling pathway and to develop novel strategies and/or compounds to control SGK1 functions.

Workshop and Conference Attended

2013 National Institute for Biotechnology and Genetic Engineering (NIBGE), Faisalabad, Pakistan. International Conference on Biotechnology; Prospects & Challenges in Agriculture, Industry, Health and Environment

2011 University of Agriculture, Faisalabad, Pakistan. 10th International and 22nd National Chemistry Conference

2012 Payame Noor University of Yazd, Yazd, Iran. The 5th Conference & Workshop on Mathematical Chemistry

Affiliations

Third World Organization for Women in Sciences (TWOWS)

National Academy of Young Scientists (NAYS) Pakistan

Presentation given

2016

Identification of Interacting Partners of Serum and Glucocorticoid-Induced Kinase-1 by Crosslinking and Mass Spectrometry

Tsinghua University, Beijing, China

Event: 9th Biology Forum of Tsinghua University

Prizes, Grants and Awards

Other Awards

Aug 2014

China Scholarship Council (CSC) Award for Doctoral Studies

I was awarded a competitive full scholarship by the Ministry of Education of the People's Republic of China to pursue my doctoral studies at Tsinghua University, Beijing.

Jul 2016

Experiencing China Summer Program Scholarship from Tsinghua University

This summer program offered a star team of multidisciplinary tutors who facilitated team projects, site visits to spaces of contemporary or historical significance, and round-table discussions involving more than 120 delegates from 44 countries. I led the "Gender Equality Group" to investigate, highlight and discuss the key issues faced by women in China today, particularly in education, employment, healthcare, politics, public life, marriage, and property rights. This program helped to develop the ability of interdisciplinary inquiry, analytical skills, problem-solving, presentation skills, cross-cultural communication, and teamwork ability.