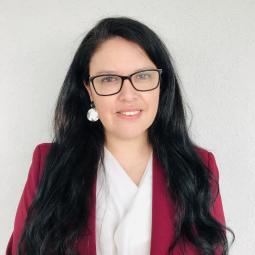 Membership type: full
Carla Viviana Hernández Silva
Country of origin: Chile
Currently in: Chile, Santiago
General field of specialization: Social and Economic Sciences
---
Academic Background

Degrees

2011 Doctorate Social and Economic Sciences

Research and Profession

Current Research Activities

Physics

The main lines of research are focused on the impact of active learning in physics and teacher training, integrating the gender perspective in different projects with national and international funding.

Publications resulting from Research:

Lagubeau, G., Tecpan, S., & Hernández, C. (2020). Active learning reduces academic risk of students with nonformal reasoning skills: Evidence from an introductory physics massive course in a Chilean public university. Physical Review Physics Education Research, 16(2), 023101.

Hernández, C., Echiburu, M., Humire, F., & Mosso, E. (2020). Motion analysis of kinetic impact projectiles for physics education in real context. European Journal of Physics, 42(1), 015802

Hernández, C., Gómez-Martínez, Y., Ruz, D., Silva, M., & Tecpan, S. (2020). Physics Teacher Training in Chile: Reality and Challenges. Revista electrónica de investigación educativa, 22.

Carreño, M. J., Sepúlveda, J., Tecpan, S., Hernández, C., & Herrera, F. (2019). An instrument-free demonstration of quantum key distribution for high-school students. Physics Education, 54(6), 065006.

Current profession

Current professional activities type:

Administration

Teaching

Higher Education Study

Affiliations

Network of women researchers Association

Chilean Society of Physics

Chilean Society of Physics Education

IAU OAE NATIONAL ASTRONOMY EDUCATION COORDINATOR TEAM FOR CHILE

Prizes, Grants and Awards

Other Awards

Sep 2020

100 women leaders from Chile

Since 2001, the 100 Women Leaders award, organized by Mujeres Empresarias and El Mercurio newspaper, has recognized the career and female leadership in the business, executive, professional and public service spheres throughout the country. However, in 2020 the organization decided to change the focus of the award and in this version 100 outstanding women were distinguished for their contribution during the COVID-19 pandemic in the areas of Entrepreneurship, Education, Science, Health and Social. In the education category, which had the collaboration of the Ministry of Education, 20 people were selected from a total of more than 1,000 names nominated by a broad readership and opinion leaders.