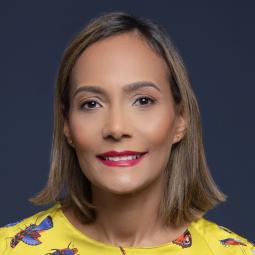 Membership type: full
Orisell Medina Lagrange
Country of origin: Dominican Republic
Currently in: Dominican Republic, Santo Domingo
General field of specialization: Engineering sciences
---
Academic Background

Degrees

2019 Doctorate Engineering sciences

2002 Master Engineering sciences

1999 Undergraduate Engineering sciences

Research and Profession

Current Research Activities

Engineering sciences

"Mitigation of urban heating in Ibero-America through the thermo-optical response of building materials" and "Experimental characterization of the thermal behavior of green facades as a passive system for energy saving in buildings and CO2 capture"

Publications resulting from Research:

Perez, G.; Medina-Lagrange, O & Consuegra, F. Catalogue of Urban Surface Finish Materials:
Optimizing Solar Energy Management in Latin American Cities Located in Different Climatic Zones. PLEA 2022


Current profession

Current professional activities type:

Teaching and Research

Workshop and Conference Attended

2021 Universidad Internacional Menéndez Pelayo, Madrid, Spain. Open Heritage, Research and Society.

2021 Online Smart Cities: means to mitigate the risks associated with climate change. Climate sensitive urban planning and means to optimize and monitor risks in cities

2021 Agencia Española de Cooperación Internacional para el Desarrollo. Antigua, Guatemala Risky cities versus resilient cities on the horizon of climate change

Affiliations

Dominican College of Engineers, Architects and Surveyors

Presentation given

2021

Materials technology and its application in architecture

Universidad nacional Pedro Henriquez Ureña, Santo Domingo, Dominican Republic.

Event: Symposium on Materials and Construction Techniques

2020

Education in PBL for sustainable urban development in the Caribbean: Results Citylab Caribbean- PUCMM

Pontificia Universidad Católica Madre y Maestra, Santo Domingo, Dominican Republic

Event: Citylab Caribbean National Conference

2019

The tacit and the explicit in the teaching of the architecture project. The sources of knowledge

Universidad Nacional Pedro Henriquez Ureña, Santo Domingo, Dominican Republic

Event: 4th Meeting of Scientific Research in Architecture and Urbanism

Prizes, Grants and Awards

Other Awards

Nov 2019

Outstanding Director School of Architecture

Awarded by the Architecture nucleus of the Dominican College of Engineers, Architects and Surveyors, CODIA, for the work carried out at the head of the PUCMM School of Architecture and Design.

Mar 2019

Women and Architecture

Selected in the campaign carried out by the Arquitexto Magazine, on women with contributions in the discipline of architecture in the Dominican Republic, within the framework of the month of women

May 2018

Barrancolí Award

Awarded by the Fundación Bosque Sagrado, for contributions to the conservation of the environment in the Dominican Republic

Mar 2018

Meritorious Architecture Professor

Awarded by the EFA-RD -Association of Schools and Faculties of Architecture, Dominican Republic.