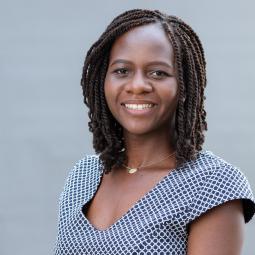 Membership type: full
Celia Moffat Joel Matyanga
Country of origin: Zimbabwe
Currently in: Zimbabwe, Harare
General field of specialization: Medical and Health Sciences incl Neurosciences
---
Academic Background

Degrees

2012 Master Medical and Health Sciences incl Neurosciences

2006 Undergraduate Medical and Health Sciences incl Neurosciences

Research and Profession

Current Research Activities

Medical and Health Sciences incl Neurosciences

- The effect of African potato on the pharmacokinetics of tenofovir and lamivudine.

Current profession

Current professional activities type:

Research

Teaching

Higher Education Study

Lecturer, Mentor, Researcher, School of Pharmacy, University of Zimbabwe

Affiliations

African Union Network of Sciences

Pharmacometrics Africa

SA Society for Basic and Clinical Pharmacology

Prizes, Grants and Awards

Other Awards

Nov 2019

L'Oréal-UNESCO For Women in Science Sub-Saharan Africa Young Talents

Award from the Fondation L'Oréal, in partnership with UNESCO, designed to support women scientists

Apr 2017

Doctoral Fellow, HIV/AIDS Research Training Program

Award from the National Institutes of Health (NIH) Fogarty International Center (FIC) HIV/AIDS Research Training Program (HRTP). The award is to strengthen capacity of Zimbabwean research scientists. to design, develop and conduct effective, relevant and ethical research programs that focus on infections with HIV, TB and malaria in Zimbabwe.

Oct 2019

Indian Council of Medical Research (ICMR) and the African Union Scientific, Technical and Research Commission (AU-STRC) International Fellow

Training on Research Methodology and Biostatistical Analysis.

Feb 2015

Structured Operational Research and Training Initiative (SORT IT) - AFRICA Fellow

Global partnership led by the Special Programme for Research and Training in Tropical Diseases at the World Health Organization (WHO/TDR). Funded by The Union, MSF, and the Department for International Development, London, UK.