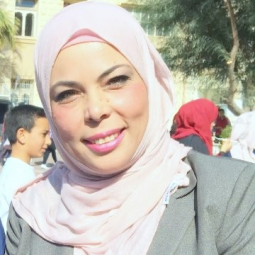 Membership type: full
Kholoud Nasser
Country of origin: Palestine
Currently in: Palestine, Ramallah
General field of specialization: Social and Economic Sciences
---
Academic Background

Degrees

2005 Master Medical and Health Sciences incl Neurosciences

1996 Undergraduate Biological Systems and Organisms

Research and Profession

Current Research Activities

Social and Economic Sciences



Publications resulting from Research:

Demographic strategies in Palestine and Israel in the last two decades, (under review).

Nasser, Kholoud, Faisal Awartani, and Jamal Hasan. "Nutritional status in Palestinian schoolchildren living in West Bank and Gaza Strip: a cross-sectional survey". The Lancet 376, no. 9734 (2010).

Analysis of the Palestinian education strategies from a gender perspective. report.



Current profession

Current professional activities type:

Workshop and Conference Attended

2008 Egypt Girls' Education Initiative (UNGEI) regional conference and launch.

2014 Jordan Education global practice, School autonomy and accountability.

2019 Jordan Regional Conference for launching the Regional Campaign on Zero Tolerance for Violence Against Women and Girls, Euro-Med Feminist Initiative (EFI).

Affiliations

Palestinian Institute of Women's Policy Research.

Presentation given

2018

Education sector summary record on the Elimination of Discrimination against Women (CEDAW)

Geneva, Switzerland.

Event: Elimination of Discrimination against Women (CEDAW) /Seventieth session, United Nations

2010

Nutritional status of the Palestinian school children.

Birzeit University

Event: Health under occupation conference, Birzeit University and the Lancet.

2014

Moderator

Palestine

Event: National conference on Civil service development in Palestine: experiences, challenges, risks.