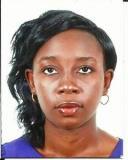 Membership type: full
Lauritta Ndufeiya-Kumasi
Country of origin: Nigeria
Currently in: Nigeria, portHarcourt
General field of specialization: Structural, Cell and Molecular Biology
---
Academic Background

Degrees

2016 Master Chemical Sciences

Research and Profession

Current Research Activities

Biological Systems and Organisms

Currently investigating the modulatory effects of curcumin and quercetin on atrazine-induced testicular toxicity in male rat. Investigated the inflammatory in the testis and liver of adult male mice in terms of exposure to a triazine chemical.

Publications resulting from Research:

Current profession

Current professional activities type:

Workshop and Conference Attended

2017 PORTHARCOURT/NIGERIA EMERGING CONCEPTS IN TOXICOGY/WEST AFRICAN SOCIETY OF TOXICOLGY

Affiliations

NIGERIAN SOCIETY OF BIOCHEMISTRY AND MOLECULAR BIOLOGY(NSBMB)

Presentation given

2017

CERTIFICATE OF PARTICIPATION

UNIPORT,PORTHARCOURT

Event: ACS GLOBAL CHEMIST'S CODE OF ETHICS (GCCE)/CHEMICAL SAFETY AND SECURITY

Prizes, Grants and Awards

Other Awards

Mar 2016

unesco scholarship award for the completion of M.sc programme in Biochemistry through research grant from Dr S.O Abarikwu, uniport

The Unesco award for the completion of Msc ,was on reproductive toxicoloy. We investigated the role of triazine chemicals in fertility health.