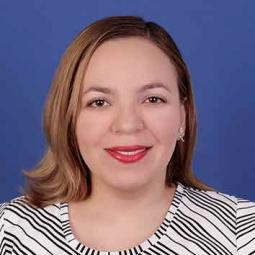 Membership type: full
Sonia Esperanza Reyes Gómez
Country of origin: Colombia
Currently in: Colombia, Medellín
General field of specialization: Engineering sciences
---
Academic Background

Degrees

2018 Doctorate Engineering sciences

2013 Master Engineering sciences

2009 Undergraduate Engineering sciences

Research and Profession

Current Research Activities

Engineering sciences

Plastics circular economy. Polymers synthesis through olefin metathesis. Materials characterization. Evaluation of the sustainability of biofuels by Green Chemistry Metrics.

Publications resulting from Research:

Armando Pineda-Contreras, Joel Vargas, Arlette A. Santiago, Araceli Martínez, Jorge Cruz-Morales, Sonia Reyes-Gómez, José Manuel Burelo, Selena Gutiérrez. "Metátesis de olefinas en México: desarrollo y aplicaciones en nuevos materiales poliméricos y en química sustentable". Revista Materiales Avanzados 2018, 29, 65 – 81.


Sonia Reyes-Gómez, Raúl Montiel, Mikhail A. Tlenkopatchev. "Chicle gum from sapodilla (Manilkara zapota) as a renewable resource for metathesis transformations." J. Mex. Chem. Soc. 2018, 62, 1 – 15. DOI: 10.29356/jmcs.v62i1.581.


Angélica Estrella Ramos Peña, Jorge Balmaseda Era, José Norberto Farfán García, José Quinatzin García Maldonado, Héctor García Ortega, Jorge Gutiérrez Flores, Selena Gutiérrez Flores, Alejandro López Cortés, Carlos Ignacio Mendoza Ruiz, Mikhail Moukhamed Tlenkopatchev, Sonia Esperanza Reyes Gómez, Guillermo Santana Rodríguez, Arlette Arizbe Santiago de la Cruz and Patricia Villareal Vega. Bioenergía, Química y Energía Sostenible. Universidad Nacional Autónoma de México. Terracota Editorial. Press in Mexico. First edition: November 2012. ISBN 978-607-713-036-9.

Camilo Andrés Castro López, Sonia Esperanza Reyes Gómez, Aristóbulo Centeno Hurtado, Sonia Azucena Giraldo Duarte "Effect of the synthesis variables of TiO2 on the photocatalytic activity towards the degradation of water pollutants". Rev. Fac. Ing. Univ. Antioquia. 2011, 57, 49 – 56.

Current profession

Current professional activities type:

Working as postdoctoral researcher at Instituto de Capacitación e Investigación del Plástico y del Caucho - ICIPC, involve in Plastics Circular Economy pilot projects in Colombia. I am also mentoring girls in STEAM and organizing academic events.

Workshop and Conference Attended

2020 Cali, Colombia VI Simposio de Materiales Poliméricos.

Presentation given

2020

Polímeros: Desafíos e innovación para cerrar la brecha de la circularidad.

Colombia

Event: Conmemoración Día del Ingeniero Químico 2020. Asociación Colombiana de Ingeniería Química y Profesiones Afines, Capítulo del Atlántico.