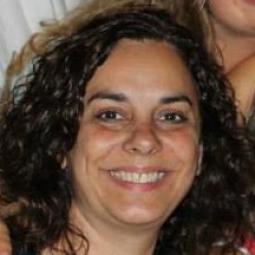 Membership type: full
Alejandra Rodriguez-Haralambides
Country of origin: Uruguay
Currently in: Uruguay, Montevideo
General field of specialization: Chemical Sciences
---
Academic Background

Degrees

1999 Doctorate Chemical Sciences

1994 Master Chemical Sciences

Research and Profession

Current Research Activities

Chemical Sciences

Bioanalytical chemistry: Our focus is studying biochemical systems using Mass Spectrometry (LC-MSn). We work with natural products to evaluate their chemical profile and their potential bioactive compounds. Green Chemistry: Applying the principles of green chemistry/sustainable chemistry to our daily work and teaching. Food Safety and Authenticity: Trough their chemical profile, we study the authenticity and safety of food matrices.

Publications resulting from Research:

Natalia Oddone, Nicole Lecot, Marcelo Fernández, Alejandra Rodriguez‑Haralambides, Pablo Cabral, Hugo Cerecetto and Juan Claudio Benech; "In vitro and in vivo uptake studies of PAMAM G4.5 dendrimers in breast cancer", J Nanobiotechnol 2016, 14:45

Krueger, D. ; Arora, S. ; Bzhelyansky, A. ; Chen, P. ; Chlenov, A. ; Collison, M. ; Durst, R. ; Es-Safi, N. E. ; Giancaspro, G. ; Hall, G. ; Hammerstone, J. ; Ingle, P. ; Jennens-Clough, M. ; Ji, D. ; Ji, J. ; Kennedy, D. ; Lawson, T. ; Lee, J. ; Lock, S. ; Mudge, E. ; Neal-Kababick, J. ; Phillips, M. ; Phillips, T. ; Rejaei, A. ; Rettinger, M. ; Rimmer, C. ; Rodriguez-Haralambides, A. ; Royce, S. ; Schaneberg; B. ; Solyom, A. ; Stern, N. ; Sullivan, D. ; Szpylka, J. ; Wise, M. ; Yan, X. ; Yoo, S-J. ; Yu, K. ; Zhang, Y, ; Coates, S. ; "Authentication of selected vaccinium species (anthocyanins) in dietary ingredients and dietary supplements", Journal of AOAC International, 2015, Vol. 98, No. 4, 1052-1054, DOI : 10.5740/jaoac.int.SMPR2014.007

Torterolo, Pablo; Falconi, Atilio; Benedetto, Luciana; Rodriguez-Haralambides, A.; Rufo, C.; Bracesco, N.; "Yerba Mate: efectos sobre la vigilia y el sueño", An. Facultad Med (Univ. Repub. Urug.) 2014: 1(1)28-40; ISSN: 2301-1254; 31/7/2014, http://www.anfamed.edu.uy/index.php/rev/article/view/68

Altesor, P., García, A., Font, E., Rodriguez-Haralambides, A., Vilaró, F., Oesterheld, M., Soler, R., Gonzalez, A.; "Glycoalkaloids of Wild and Cultivated Solanum: Effects on Specialist and Generalist Insect Herbivores", J. Chem. Ecology 2014, 40 :566-608, DOI 10.1007/s10886-014-0447-8

Saiz, C., Castillo, V., Fontán, P., Bonilla, M., Salinas, G., Rodriguez-Haralambides, A., Mahler, S.G.; "Discovering Echinococcus granulosus Thioredoxin Glutathione Reductase inhibitors through site-specific Dynamic Combinatorial Chemistry", Molecular Diversity 2014, 18(1), 1-12, DOI: 10.1007/s11030-013-9485-3

Umpiérrez-Failache, M., Garmendia, G., Pereyra, S., Rodríguez-Haralambides, A., Ward, T.J., Vero, S. ; "Regional differences in species composition and toxigenic potential among Fusarium head blight isolates from Uruguay indicate a risk of nivalenol contamination in new wheat production areas", Intern. J. Food Microbiol. 2013, 166 (1), 135-140

Possi-Pezzali, T., Chigome, S., Rodriguez-Haralambides, A., Torto, N. ; Evaluation of electrospun fibers as solid phase extraction sorbent for sample preparation in HPLC-MS/MS confirmatory doping control analysis of dexamethasone and betamethasone. Anal. Methods, 2013, 5 (16), 4230-4237

Varela, J., Lavaggi, M.L., Cabrera, M., Rodríguez, A., Miño, P., Chiriboga, X., Cerecetto, H., González, M.; "Bioactive-guided identification of labdane terpenoids from aerial parts of Aristeguietia glutinosa Lam. as anti-Trypanosoma cruzi agents", Nat. Prod. Comm. 2012, 7(9), 1139-1142

Baruffaldi, L., Costa, F.G., Rodriguez, A., Gonzalez, A.; "Chemical Communication in the Wolf spider Schizocosa malitiosa: Evidence of a female contact sex pheromone and persistence in the field", J. Chem. Ecology 2010, 36(7), 759-767

Boiani, M., Merlino, A., Gerpe, A., Porcal, W., Croce, F., De Paula, S., Rodríguez, M.A., Cerecetto, H., Gonzalez, M.; "o-Nitroanilines as major metabolic products of anti-Trypanosoma cruzi 5-phenylethenylbenzofuroxans in microsomal and cytosolic fractions of rat hepatocytes and in whole parasitic cells", Xenobiotica 2009, 39(3), 236-248

Betancor, L., Schelotto, F., Martinez, A., Pereira, M., Algorta, G., Rodríguez, M. A., Vignoli, R., Chabalgoity, J.A., "Random amplified polymorphic DNA and phenotyping analysis of Salmonella enterica serovar enteritidis isolates collected from humans and poultry in Uruguay from 1995 to 2002", J. Clin Microbiol. 2004, 42(3), 1155-62.

Rodríguez, M. A.; Yost, R.A.; "Interpretation of Electrospray Mass Spectra of Bile Acids and Related Molecules", R. Comm. Mass Spectrometry 2000, 14, 1398-1403

McDevitt, V.L.; Rodríguez, A.; Williams, K.R.; "Analysis of Soft Drinks: UV Spectrophotometry, Liquid Chromatography and Capillary Electrophoresis", J. Chem. Ed. 1998, 75, 625-629.

Rodríguez, A.; Barrera-Arellano, D.; Grompone, M.A.; "Estabilidad oxidativa de aceite de hígado de merluza", Grasas y aceites 1993, 44, 270-273, ISSN 0017-3495; http://grasasyaceites.revistas.csic.es/index.php/grasasyaceites/article/view/1078/1088


Current profession

Current professional activities type:

Adjunct Professor at the "Instituto Polo Tecnologico de Pando", in the Chemistry Faculty, Universidad de la Republica, Uruguay. I teach graduate and undergraduate level courses, and work in reseach projects mainly in joint venture with local industry.

Affiliations

American Society of Mass Spectrometry

BrMass

Presentation given

2016

Leveraging our Southern cultural roots through mass spectrometry: what is "yerba mate"?

Rio de Janeiro, Brasil

Event: 1st IberoAmerican, VI Brazilian Conference on Mass Spectrometry

2014

Desafíos Analíticos en la detección de toxinas emergentes

Montevideo, Uruguay

Event: III Congreso Uruguayo de Química Analítica

2009

MS Tools in Racehorse Doping Control

Campinas, Brasil

Event: Bruker Users Meeting, III BrMass

Prizes, Grants and Awards

Other Awards

Jul 2010

OPCW Laboratory Assistance Program

South-South cooperation project: we received the visit of Dr. Nelson Torto (Rhodes University, South Africa), and his student Bellah Pule.

May 2011

OPCW Fellowship

South-South cooperation project: My student Tania Possi visited Dr. Torto's laboratory and I visited with them as well. The project sought to develop new analytical methods according to green chemistry principles. A scientific publication resulted from this efforts.

Mar 2005

CSIC Research and Development Projects

The project: "Herramientas genómicas y proteómicas para el estudio de diversidad entre cepas de Salmonella asociadas a Enfermedad Transmitida por Alimentos", was financed during 2005-2007. The project had two PIs, (Laura Betancor and I), working at the Instituto de Higiene, Facultad de Medicina, Universidad de la Repubica, Uruguay.