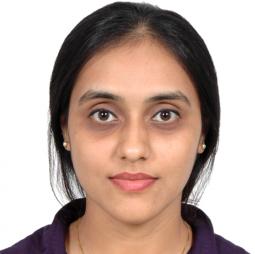 Membership type: full
Varsha Singh
Country of origin: India
Currently in: India, Chandigarh
General field of specialization: Biological Systems and Organisms
---
Academic Background

Degrees

2015 Doctorate Biological Systems and Organisms

2008 Master Biological Systems and Organisms

2006 Undergraduate Biological Systems and Organisms

Research and Profession

Current Research Activities

Biological Systems and Organisms

1. Development of Personalized Therapeutic Approach in cardio-Renal Diseases 2. Point-of-Care Device to screen dry eye diseases in the rural and semi-urban population 3. Strip-based digitized medical device to detect thyroid disorders (patented) 4. Network analysis and identification of pancreatic amyloidosis in type-2-diabetes individuals

Publications resulting from Research:

Singh, Varsha, and Mingma Sherpa. "Neuronal-Like Differentiation of Murine Mesenchymal Stem Cell Line: Stimulation by Juglans regia L. Oil." Applied biochemistry and biotechnology 183.1 (2017): 385-395.

Singh, Varsha. "DCoH: A novel biomarker for diagnosing acute kidney injury." Medical hypotheses 95 (2016): 27-30.

Singh, Varsha, and Nitin Saluja. "Phylogenetic and promoter analysis of islet amyloid polypeptide gene causing type 2 diabetes in mammalian species." International Journal of Diabetes in Developing Countries 36.4 (2016): 477-489.

Singh, Varsha., et al. "Hepatocyte nuclear factor-1β: A regulator of kidney development and cystogenesis." Indian journal of nephrology 25.2 (2015): 70.

Singh, Varsha, and Rupali Panwar. "In vivo antioxidative and neuroprotective effect of 4-Allyl-2-methoxyphenol against chlorpyrifos-induced neurotoxicity in rat brain." Molecular and cellular biochemistry 388.1-2 (2014): 61-74.

Current profession

Current professional activities type:

Research

Administration

Teaching

Ph.D. Supervisor (2 students enrolled) Master's Thesis supervisor (2 students enrolled) Founder, Co-ordinator, and Member of Institutional Ethics Review Board (IERB), Chitkara University

Workshop and Conference Attended

2018 CSIR-Institute of Microbial Technology (IMTECH), Chandigarh, India Workshop BT2: Bioinformatics Training for Trainers

2018 Chitkara University, Punjab, India Workshop Systematic Review and Meta-analysis

2017 Indian Institute of Science (IIT), New Delhi, India Bioinformatics Workshop, Supercomputing Facility Bioinformatics and Computational Biology (SCFBio)

2015 Trieste, Italy ICGEB 2015 Meetings, Theoretical Course, Mouse Genetics; Models for Human Disease

2014 Cali, Colombia ICGEB 2014 Meetings, International Workshop Advanced Techniques for Clinical and Personalized Human Genome

Presentation given

2018

Preventive and Personlaized Approach for Hypertension care to Diagnosing Thyroid Disorders

Manipal University, Karnatka, India

Event: Indo-German Convention of Lindau Alumini (IGCLA) 2018

Prizes, Grants and Awards

Other Awards

Jun 2017

2nd BRICS Young Scientist Conclave

Selected as top 20 Indian Young Scientist Delegate in the 2nd BRICS Young Scientist Conclave held in Hangzhou, China

Oct 2016

Intel-DST Innovator

Top 10 winner as an Innovator in Intel-DST Challenge 2.0, 2016, Department of Science and Technology, India. Received seed funding for developing medical device for detecting thyroid disorder.

Oct 2016

CII-I3 Innovator

Finalist as an Innovator at Confederation of Indian Industries (CII)-8th India Innovation Initiative for making mice bone marrow cells differentiate into neuronal cells using walnut oil.

Jun 2016

All IEEE Young Engineer's Humanitarian (AIYEHUM), Challenge

Top 20 Finalist for the invention of Thyroid Detection Digitization.

Mar 2016

Gandhian Young Technological Innovation Award (GYTI)

GYTI Awardee for Innovation in Stem cell differentiation at President's Estate, New Delhi. Received seed funding in support of commercializing the technology.