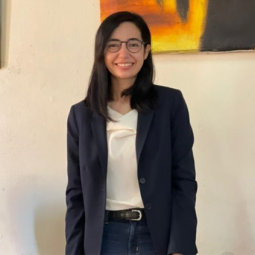 Membership type: affiliate
Dania Estefania Zavala Fuentes
Country of origin: Honduras
Currently in: Honduras, Tegucigalpa
General field of specialization: Engineering sciences
---
Academic Background

Degrees

2017 Undergraduate Engineering sciences

Research and Profession

Current Research Activities

Engineering sciences

Actualmente formo parte del Grupo de investigación en cadena de suministros y operaciones de la Facultad de Ingenieria de la Universidad Nacional Autónoma de Honduras. He sido panelista y participantes de distintos eventos científicos en relación a la extensión universitaria.

Publications resulting from Research:

2021: Nanostores and Supply chains: A current outlook and future perspectives of technological and managerial practices. Facultad de Ingeniería-UNAH, Honduras. MIT. Springer (Indizado SCOPUS)- Proceso de Edición.

Current profession

Current professional activities type:

Elaboración de estudios de impacto, procesos, evaluación de desempeño de proyectos sociales, administración y gestión en el monitoreo de datos en la implementación de estrategias y programas como Especialista en Compassion Internacional.

Workshop and Conference Attended

2017 Nicaragua Congreso latinoamericano y del caribe de extensión universitaria

2016,2017,2020 Honduras Semana académica 2016

Affiliations

Centro de emprendedores - CEMPRENDE

Presentation given

2016

Panelista sobre I+D+i y los circulos de creatividad de la UNAH

UNAH

Event: Circulos de creatividad de la UNAH

2017

Congresista expositora de Diálogos de saberes y conocimientos con Compromisos Social.

Nicaragua

Event: Congreso latinoamericano y del caribe de extensión universitaria

2021

Foro del Rol de la Mujer en la Ingenieria Industrial de la Universidad Pedagógica y Tecnológica de Colombia.

Virtual

Event: Colombia

2019

Conferencia - La Ingenieria Industrial y la administración Pública

Honduras

Event: Semana de Ingenieria Industrial

Prizes, Grants and Awards

Other Awards

Oct 2017

Honor al mérito de Ingenieria Industrial

Premio otorgado a estudiantes destacados de la carrera de ingenieria industrial por su desempeño en liderzgo estudiantil y social a través de la academia.