OWSD Latin America region hosts first Leadership Summit
June 01, 2022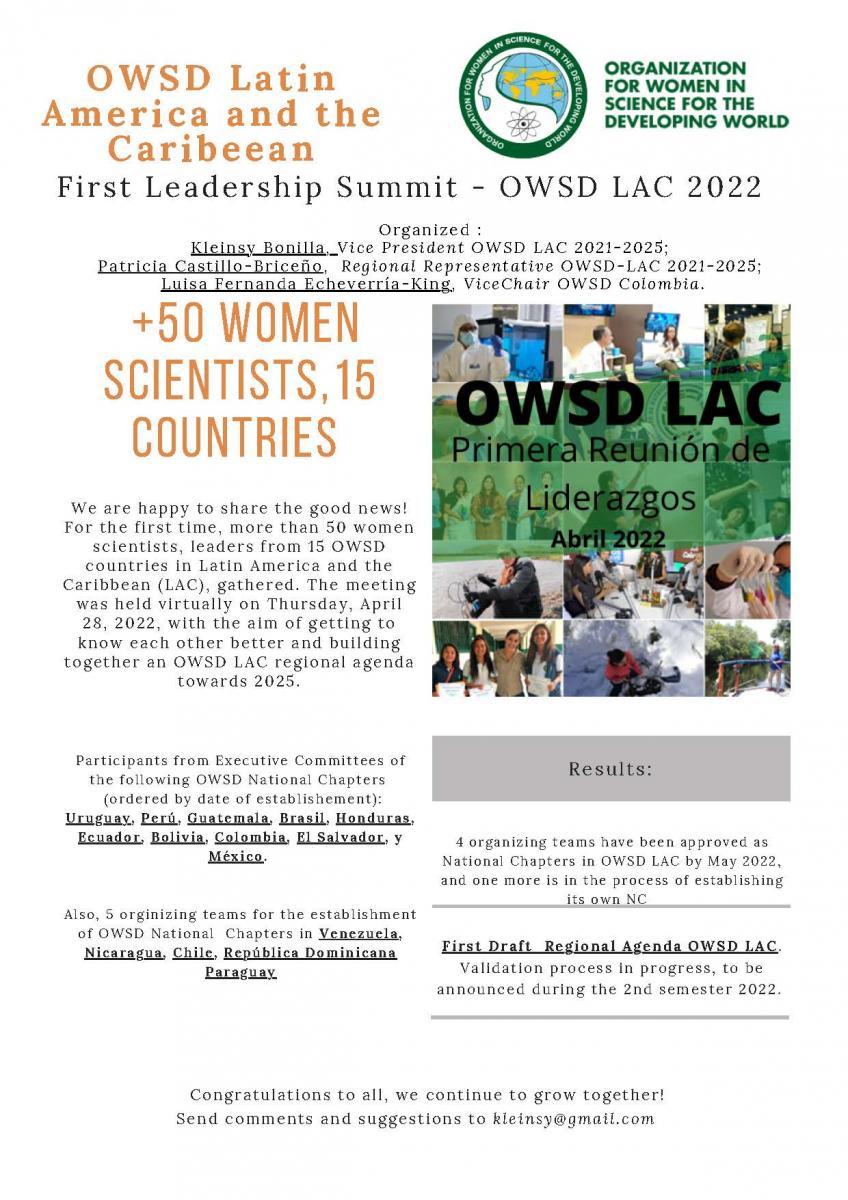 [English]
On Thursday, April 28, more than 50 women scientists, leaders from 15 OWSD countries in the Latin America and the Caribbean (LAC) region, gathered for the first time at a Leadership Summit, with the aim of becoming more acquainted with each other and building together an OWSD LAC regional agenda towards 2025. The meeting was held virtually. It was organized by Kleinsy Bonilla, OWSD Vice President of the LAC region for 2021-2025, Patricia Castillo-Briceno, Regional Representative of the LAC region 2021-2025, and Luisa Fernanda Echeverría-King, Vice Chair of the OWSD Colombia National Chapter. 
The meeting involved participants from executive committees of the following OWSD National Chapters (ordered by date of establishment): Uruguay, Perú, Guatemala, Brazil, Honduras, Ecuador, Bolivia, Colombia, El Salvador, and México. In addition, 5 organizing teams were convened for the establishment of OWSD National Chapters in Venezuela, Nicaragua, Chile, the Dominican Republic, and Paraguay.
The LAC leadership approved the organization of four National Chapters to be established as early as May 2022. Three of them—in Venezuela, Chile, and the Dominican Republic—have already launched since the meeting and one more is in the process of establishing its own chapter.
As an outcome of the summit, OWSD LAC was able to produce the first draft of a Regional Agenda through 2025, which is currently in the process of validation and will be finalized and announced during the latter half of 2022. 
----
[Espanol]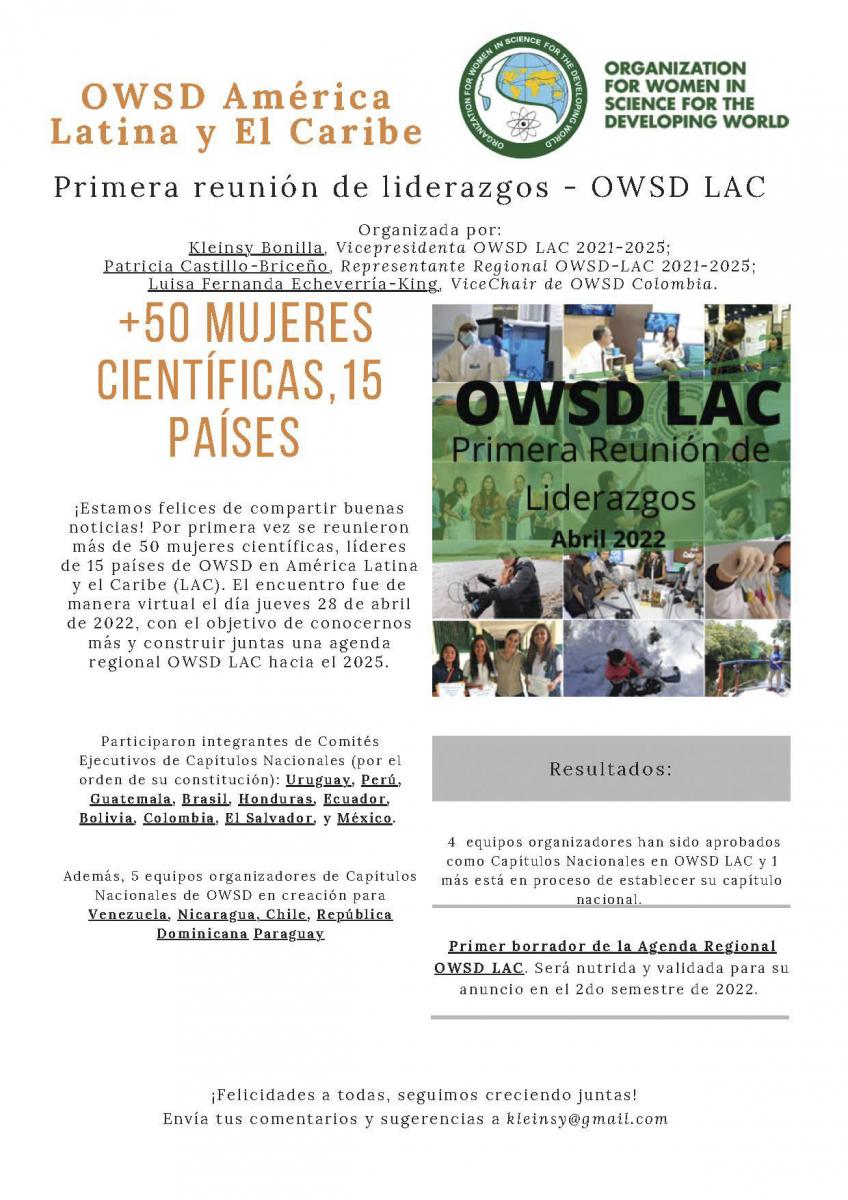 El jueves 28 de abril, más de 50 mujeres científicas, líderes de la OWSD en 15 países de América Latina y el Caribe (LAC), participaron en la primera Reunión de Liderazgos, con el objetivo de conocerse más entre sí y construir juntas una agenda regional de la OWSD LAC al 2025. La reunión se llevó a cabo de manera virtual. Fue organizada por Kleinsy Bonilla, Vicepresidenta de la región LAC de la OWSD para 2021-2025, Patricia Castillo-Briceño, Representante Regional de LAC 2021-2025, y Luisa Fernanda Echeverría-King, Vicepresidenta del Capítulo Nacional de OWSD Colombia.
La reunión involucró a participantes de los comités ejecutivos de los siguientes Capítulos Nacionales de OWSD (ordenados por fecha de establecimiento): Uruguay, Perú, Guatemala, Brasil, Honduras, Ecuador, Bolivia, Colombia, El Salvador y México. Además, se convocó a 5 equipos que están trabajando en el establecimiento de Capítulos Nacionales de OWSD en Venezuela, Nicaragua, Chile, República Dominicana y Paraguay.
El liderazgo de LAC aprobó la organización de cuatro Capítulos Nacionales que se establecerán a partir de mayo de 2022. Tres de ellos -Venezuela, Chile y República Dominicana- fueron establecidos en días posteriores a la reunión y uno más está en proceso de establecerse.
Como resultado de la reunión, OWSD LAC pudo preparar el primer borrador de la Agenda Regional al 2025, que actualmente se encuentra en proceso de validación y será finalizado y anunciado durante la segunda mitad de 2022.