What is OWSD?
The Organization for Women in Science for the Developing World
The Organization for Women in Science for the Developing World (OWSD) is an international non-profit organization based at the offices of The World Academy of Sciences (TWAS), in Trieste, Italy, a programme unit of UNESCO. 
OWSD was founded in 1987 and is the first international forum to unite eminent women scientists from the developing and developed worlds with the objective of strengthening their role in the development process and promoting their representation in scientific and technological leadership.
OWSD provides research training, career development and networking opportunities for women scientists throughout the developing world at different stages in their careers.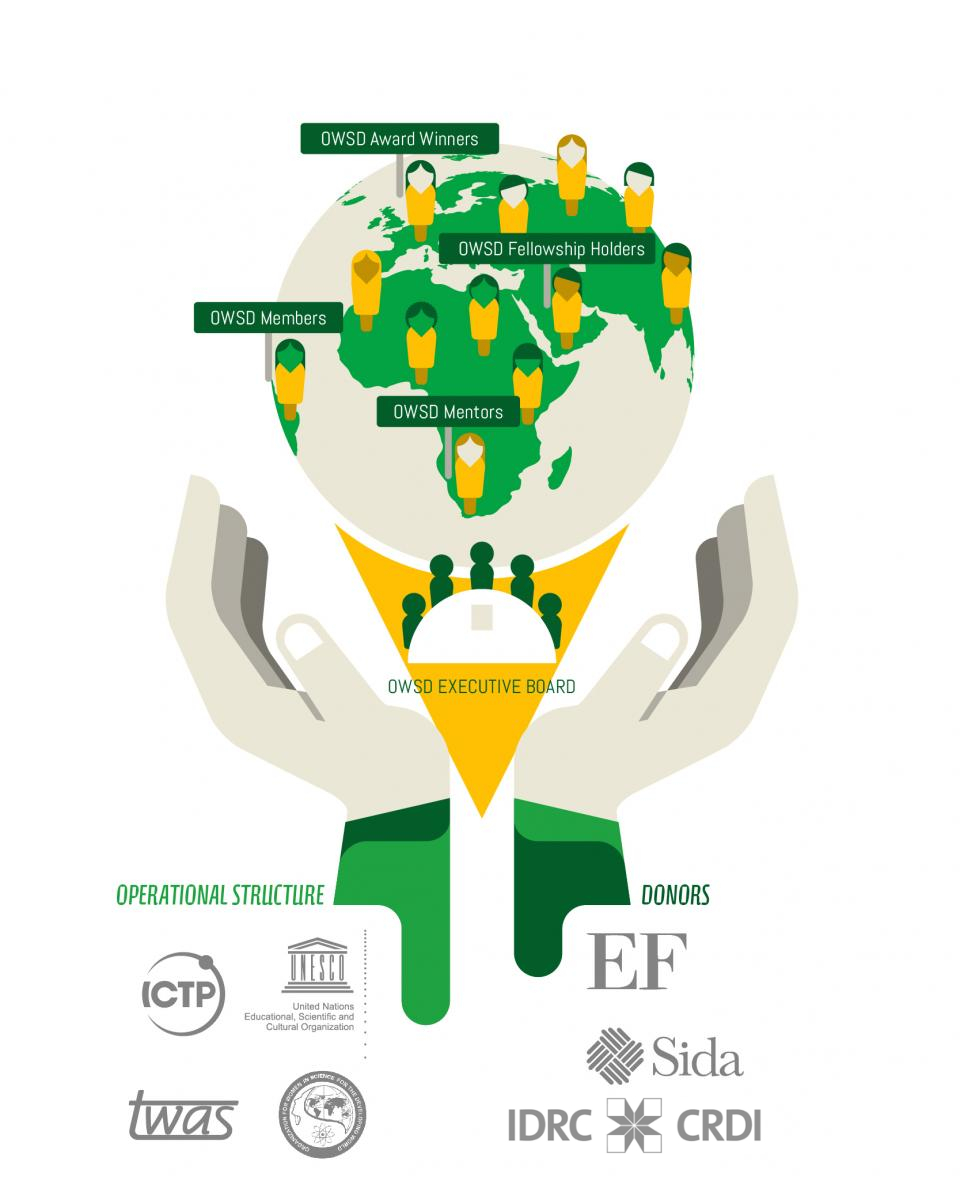 Our main programmes are:
Membership in the international OWSD network and in National Chapters in many countries, to unite women scientists in developing countries and provide information on opportunities, regional and local events and access to skills-building activities. 
Fellowships, including scholarships for women scientists from least developed countries to study for Postgraduate (PhD) degrees  in another developing country, and grants for early career women scientists to support the purchase of equipment and other expenses needed to carry out their research
Awards to recognise and celebrate early career women scientists who have made significant contributions to research and education in their scientific field
OWSD provides support to women scientists throughout their careers. As you progress from undergraduate science through to PhD research, to postdoctoral studies and beyond, you can draw on OWSD members' experience and expertise to help you through to the next stage of your career. You can attend regional and international conferences and seminars in your research field, develop writing and presentation skills, sign up to get help from a mentor, learn what it takes to become a leader or negotiate better conditions in your department. One day you might be in a position to persuade government ministers, policymakers and heads of department that the knowledge and needs of women should be considered in the design of research projects and that women should be trained in how to use new technologies and products that could transform their working and family lives.
Downloads