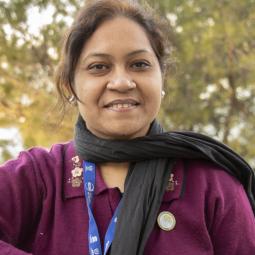 2018 OWSD Early Career fellow


Biological Systems and Organisms
A microbiologist from Bangladesh working on a vaccine for Foot and Mouth Disease
What fascinated me is that only 5% of microorganisms are harmful, and the rest are beneficiary.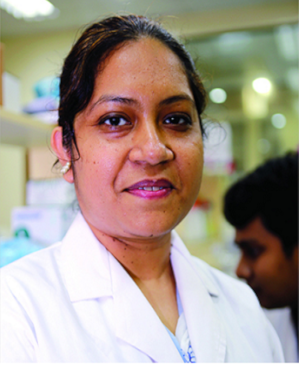 Dissecting frogs might make some students squeamish, but for Munawar Sultana, it was one of the early experiences in school that sparked her interest in the sciences: "I always wanted to know more about the unknown." She set her sights early on passing the qualifying exams to pursue a curriculum in biology at university, but then faced difficulty in narrowing down her focus: should she specialize in botany, zoology, biochemistry, microbiology, or something else? Eventually she landed on the latter: "Microbiology is a subject where you can see nothing," she says. "You can't see a microorganism, but by now we all know how powerful they are—we have experienced this with the COVID-19 pandemic. But what fascinated me is that only 5% of those microorganisms are harmful, and the rest are beneficiary."
The beneficial qualities of microbes could be harnessed to make improvements in public health, food security, environmental quality, veterinary practice, and other aspects of society, Sultana thought. This potential inspired her to continue studying microbiology. She enrolled at the University of Dhaka, where in her fourth year she had the opportunity to take part in a research project and begin working on her master's thesis; these experiences convinced her that she wanted to go as far as she could in the field. After completing her bachelor's and master's degrees at the university, where she was one of the top students in the Faculty of Biological Sciences, she went abroad for her PhD and received her doctorate from the Technical University of Freiberg in Germany in 2010 under a DAAD fellowship. She was later awarded a Fulbright fellowship for post-doctoral research at the University of California, Santa Cruz in the USA.
Although she had an offer to continue working in Germany after her PhD and no guaranteed job opportunity at home, "Still I came back," Sultana says, "because I wanted to do something for my country." Upon returning to Bangladesh, she changed jobs a few times before joining the Department of Microbiology at the University of Dhaka as a faculty member. She found herself struggling initially to find funding for her research and to gain support for the specific research projects she wanted to work on. Having strong mentors was important to her in this period; she is especially grateful for the guidance of Professor Dr. M. Anwar Hossain, whose lab she worked in upon joining the department. Professor Hossain and other colleagues opened pathways to collaboration and helped Sultana to navigate early career challenges. She is also grateful to the other mentors in her scientific career: Professor Sirajul Islam Khan (Bangladesh); Professor Nils Kare Birkeland (Norway); Professor Michael Schloemann (Germany); and Professor Chad Saltikov (USA), all of whom, she says "were really inspiring and amazing mentors who nurtured scientific knowledge within me." 
Now, still in the Department of Microbiology at the University of Dhaka, Sultana runs her own research group at the Microbial Genetics and Bioinformatics Lab. This lab studies the emergence, distribution and epidemiology of circulatory Foot and Mouth Disease Virus (FMDV), which infects cattle and other livestock in Bangladesh. Under her project funded by the OWSD Early Career fellowship, she was able to develop a locally-produced vaccine for the virus. While foreign vaccines are available, they are costly to import. Sultana's vaccine uses locally isolated strains of the virus, which results in the vaccine being cheaper and more effective. She also developed a second, peptide-based vaccine, in contrast to previous vaccines based on inactivated virus. This meant she needed special equipment for protein analysis: a sonicator for protein degradation, a protein and DNA concentrator, and a centrifuge. The fellowship funding enabled her to purchase all of these along with cell culture reagents, as well as to partly support one PhD student, four master's students, and a lab assistant to help with the research.
Using the protein designed for use in the the vaccine and other synthesized peptides, she was also able to develop the basis for a field-ready, easy-to-use and economic diagnostic kit for detection of the virus. Availability of such a test could save an estimated USD 100,000 each year and improve rural agro-economy and employment. Sultana has already partnered with a local industry in Bangladesh to produce and market the vaccine and diagnostic kit. These efforts have been slowed by the COVID-19 pandemic, but she hopes her products will be available to rural farmers within the next 2-3 years.
The OWSD fellowship has already brought attention to Sultana's research from other funders. Since being selected as part of the first cohort of fellows in 2018, she has received several smaller grants from the Bangladesh Ministry of Education, Ministry of Science and Technology, and University Grants Commission.  "This has helped me a lot in gaining visibility as a scientist, as a researcher," she says. "The OWSD fellowship has given me wings, so that I can fly up to the level where I want to be."