"I went for gold" a Conversation with Olubukola Oluranti Babalola: from OWSD Fellow to Vice President of The World Academy of Sciences (TWAS)
My dear girls in science: be strong, inquisitive, curious, assertive, resilient, and focused. Go for gold!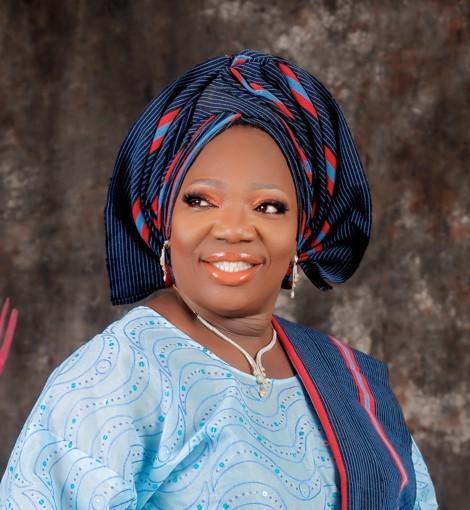 Olubukola Oluranti BABALOLA (Pr.Sci.Nat, MASSAF, FASLP, FTWAS, FAS, FAAS) is an NRF-rated scientist with over 20 years' research experience focusing on rhizosphere metagenomics. Regional member for Africa of the OWSD Executive Board since 2016 and re-elected  in 2021 as OWSD Vice President for Africa. In 2022, Prof Babalola was selected as Vice President of the World Academy of Sciences (TWAS).
Professor Babalola, your career and scientific journey are impressive and exemplify the impact women scientists can have on advancing science in developing countries. You are well known to our members - and much loved - as the regional member for Africa of the OWSD Executive Board since 2016 and re-elected by OWSD members in 2021 to be the OWSD Vice President for Africa. In addition, in 2022, you were selected as Vice President of the World Academy of Sciences (TWAS). This latest achievement will give you even greater access to influencing decision-making processes at an international level. We look forward to hearing about these efforts and results during the following years. 
But first, how and when did you become interested in science?
In High School, we had to choose from Science, Arts or Business. I chose Science and studied Physics, Chemistry, Biology,  Mathematics - and English. I loved Science, most especially Biology. There, I found inspiration. I read and studied it with pleasure; the natural sciences intrigued and fascinated me through the efforts of my teachers. I had the inner motivation to learn, and I was inquisitive.
You were one of the very first OWSD PhD Fellows. Could you tell us how this fellowship impacted your career and how you first learned about it?
Twenty-two years ago,  I was completing my MSc degree in Biology at the International Institute of Tropical Agriculture in Ibadan, Nigeria (where I grew up) and I read about the OWSD fellowships on the notice board. That was a paper announcement - the internet had only just been invented and there was no free access - and of course, the application was also submitted on paper too and sent to the OWSD offices in Italy! When I received the acceptance letter (also on letterhead!) I was moved and very, very excited. This was the start of my international travels, and the academic world was opened up to me. 
I attended some amazing academic institutes in Nairobi (the Kenyan Agricultural Research Institute, the Kenya Sugar Research Foundation, and the International Centre of Insect Physiology and Ecology). East African exposure to experts in my research concentration was an unforgettable experience. Although I met many people, not one of them was a woman researcher. That rang bells in my ears, and I dared to be a reference point for women scientists.
The OWSD fellowship was the gateway to Israel where I was the only black postdoctoral student then. I admire the courage of the Emeritus Professor who hosted me, knowing full well that I had two accompanying children, ages 7 (now a Chartered Accountant) and 4 (now a Software Engineer). I was breastfeeding the latter when I was in Kenya on the OWSD fellowship. My husband found a place to do his sabbatical at another university in Israel to make life easier for us. He was around for 12 months.
It was through this scientific exposure that I became very focused early in my career. I mean, I developed a specific area of research interest - and have consistently advocated using biofertilizers over and above chemical fertilizers for plant health management. My effort for SDG 2, "Zero Hunger" in the continent of Africa for food security and sustainable agriculture is helping farmers, women, and all food lovers.
My first rating as a researcher was by the National Research Fund of South Africa in 2012, based on my work from the OWSD fellowship: I was rated C3: "Most of the reviewers concur that the applicant is an established researcher". I have moved up the ladder since then.
You are Nigerian and have developed most of your career outside your country. What does it mean for you to give back to your community?
After my PhD, I returned to Nigeria and developed my career as a lecturer at Olabisi Onabanjo University in Ago-Iwoye; this was before I assumed duty as a Senior lecturer at North-West University in South Africa, where I am now a professor.
I have been giving back to my country for years, to Africa and the world at large, as shown by my human capacity endeavours. I have graduated more than 120 Honours students from Southern Africa and other African countries. Under my supervision, 24 MSc students have graduated and 31 PhD students from East, West and Southern Africa. I have hosted 7 incoming exchange students (from Argentina, West, North and Southern Africa), and under my guidance, 8 students have gone on exchange visits to Romania, Argentina, USA, Canada and France. In addition, I have hired postdoctoral fellows from Yemen, Nigeria, India, Congo, and Benin.
I have made many other contributions which are not so easy to quantify, in the form of invited talks, mentoring, coaching, motherly advice, words of empowerment, and leading voluntary editorial services. For instance, as Executive Board member of OWSD, I visited OWSD National Chapters all over Africa, conducting in-person and online training sessions in Namibia, Rwanda, Sudan, Tanzania, Uganda, Botswana, Ghana, Kenya, Mauritius, Mozambique, Nigeria, Zimbabwe and of course South Africa.
At the World Science Forum in Cape Town in December 2022, I was invited to give my first Ignite Talk: a golden 5 minutes to describe a lifelong career. But I was glad for this opportunity: I have a compelling message for women scientists that I am always keen to share.
You have an H-index of 53, with over 13,000 citations and have been rated #1 scientist in your field in Africa. You are clearly at the top of your field as a scientist and yet you also put a great deal of energy into mentoring. What advice would you give young people – especially girls – interested in pursuing a career in science?
For young people: proper planning prevents poor performance. For girls: avoid teenage pregnancy and do not cast your pearls before swine. Although it happens occasionally, there is more to it than meets the eye; face it and do not let it hold you down. Are you aiming to study science? Why not? We need women Professors, Surgeons, Presidents, Leaders, Directors, CEOs, Engineers, Pilots, Research Scientists...
In summary, my dear girls in science: be strong, inquisitive, curious, assertive, resilient, and focused. Go for gold!