2019 OWSD-Elsevier Foundation Award winners announced
February 13, 2019
Five women scientists from Bangladesh, Bolivia, The Gambia,Nepal and Palestine are recognized for their accomplishments in biological sciences.

The winners of the 2019 OWSD-Elsevier Foundation Awards were announced Wednesday, 13 February, in Washington, D.C. The five early career researchers living and working in Bangladesh, Bolivia, The Gambia, Nepal and Palestine have been recognized for their work in environmental microbiology, ethnobotany, clinical pediatrics and epidemiology. The prize also acknowledges the scientists' commitment to leading and mentoring young scientists, and to improving lives and livelihoods in their communities and regions.
"These scientists are performing ground-breaking international-level science, often in circumstances where the deck has been stacked against them," said Jennifer Thomson, President of the Organization for Women in Science for the Developing World (OWSD). "They deserve to be honored and celebrated for their dedication not only to their research, but to creating a better world for people to live in."
The five researchers are:
"Each year, it is inspiring to find out just how much of the research undertaken by our winning scientists focuses on crucial challenges addressed by the UN Sustainable Development Goals: creating sustainable bioplastics in Bangladesh; preserving traditional plant knowledge in Bolivia; reducing disease transmission to newborns in Africa; removing arsenic from water in Nepal; and investigating the health care system response to gender violence in Palestine," said Ylann Schemm, Director of the Elsevier Foundation. "In addition, working with OWSD and the AAAS to celebrate the success of these talented women scientists is both an honor and a joy."
Each award winner received USD $5,000 and was presented her prize at the annual meeting of the American Association for the Advancement of Science (AAAS) in Washington, D.C., during a special breakfast ceremony on 16 February. In addition, each award winner received a generous private donation of USD $2500 from Gilbert Omenn and Martha Darling, to be spent on research consumables (as in 2014-2018).
Past OWSD-Elsevier Foundation Award winners have been recognized by their country's presidents and celebrated by local, national and international media. They have received other prestigious awards and fellowships including L'OREAL-UNESCO For Women in Science Fellowships and the British Council Award.
You can read more about each Award winner below, or in more detail in the linked biographies available for download. The full press release is also linked below. 
For information on previous award winners, see: https://owsd.net/awards/past-awardees
The 2019 OWSD-Elsevier Foundation Awardees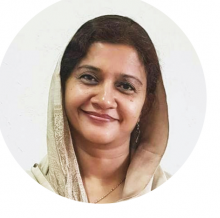 Tabassum Mumtaz
Asia-Pacific region
Environmental microbiology
Principal Scientific Officer,
Institute of Food and Radiation Biology,
Atomic Energy Research Establishment,
Bangladesh Atomic Energy Commission
Dr. Tabassum Mumtaz, an environmental microbiologist from Bangladesh, works on the conversion of biomass and other waste materials into useful compounds using bacteria. Her work contributes to directly removing harmful materials from the environment as well as generating renewable energy in the process. She specializes in producing polyhydroxyalkanotes (PHAs), bioplastics produced by special bacteria that are cultivated from compost, food waste and wastewater, such as the effluents from palm oil production. She received her PhD in Environmental Biotechnology from Universiti Putra Malaysia, under an OWSD PhD fellowship. After a post-doctoral position at the University Kebangsaan Malaysia, she returned to the Bangladesh Atomic Energy Commission, where in addition to her research as a Principal Scientific Officer, she trains students in laboratory techniques for microbiology. She has acted as a reviewer and has publications in several high-impact journals. She is the author of "Changes in the properties of LD-PE during biodegradation in soil." Dr. Mumtaz's current research focuses on the remediation of wastewater by gamma radiation and the capability of radio-resistant bacteria for PHA production. In the future, she hopes to implement projects related to biohydrogen and bioethanol production from biomass. She believes that focusing on pollution abatement and renewable energy and valuable green bioproducts can be achieved through collaborations with industries such as textile dyeing. These developments will have a big impact on the energy consumption of Bangladesh in the near future.
---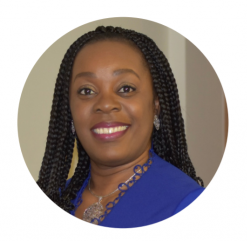 Uduak Okomo
Africa region
Paediatrics and Epidemiology
Clinical Research Fellow,
Medical Research Council Unit, The Gambia,
London School of Hygiene & Tropical Medicine
At the heart of Dr. Uduak Okomo's work is the desire to decrease preventable deaths from infections in newborn babies. She has studied how neonatal infections are transmitted, and the significant role of hospital-acquired infections. This has major implications for clinical and public health interventions and can inform healthcare policy. She received her PhD in Infectious Disease Epidemiology from the London School of Hygiene & Tropical Medicine. With research funding from the Elizabeth Glaser Paediatric AIDS Foundation, she established a paediatric HIV/AIDS cohort in The Gambia, improving capacity for clinical care and research through mentorship, in partnership with the National AIDS Secretariat. She also led the team that wrote the first national paediatric HIV/AIDS treatment guidelines in The Gambia. With the support of a Wellcome Trust grant and UNICEF, she is carrying out a facility-based evaluation of stillbirths and neonatal deaths. She is a Vice President and Chairwoman of the Gambia Chapter of the West African College of Physicians, a visiting Consultant Paediatrician to the National Teaching Hospital, and teaches Paediatrics at the School of Medicine & Allied Health Sciences, University of The Gambia. She is a member of the Medical Research Council's Gambia Women in Science Working Group and facilitates the development and advancement of young girls in biomedical and clinical research careers, through public engagement and as a mentor to young scientists across the region. 
---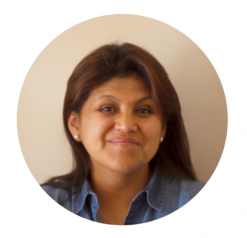 Narel Paniagua-Zambrana
Latin America & the Caribbean region
Ethnobotany
Associate Researcher,
National Herbarium of Bolivia,
Institute of Ecology
Universidad Mayor de San Andres
Dr. Paniagua-Zambrana's research focuses on documenting and protecting traditional knowledge of plant use by indigenous populations and local communities, especially in Bolivia. She works to provide local populations with tools that allow them to make decisions about the conservation of their natural resources and associated traditional knowledge. Her research has mostly focused on native palms of the Andes and the Amazon. She has worked consistently to disseminate the results of her research among local communities. Her research has been incorporated into educational materials in local schools and has served as important documentation protecting the traditional knowledge of local communities. She is one of the most published researchers in Bolivia, according to a regional report by Elsevier. She has published in journals including Nature Plants, PlosOne and the Journal of Ethnopharmacology. She has published more than 100 book chapters and 15 books, and she works with undergraduate, masters and doctoral students, many of them young women. She is on the council of the Society for Economic Botany, and is a member of the Latin American Association of Botany, the Latin American Group of Ethnobotany, the Bolivian Organization for Women in Science, and the Organization for Women in Science for the Developing World.
---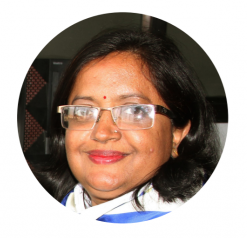 Tista Prasai Joshi
Asia-Pacific region
Environmental Microbiology
Scientific Officer,
Environment and Climate Study Laboratory,
Nepal Academy of Science and Technology
Dr. Prasai Joshi's work is dedicated to creating environmentally friendly solutions for water treatment, through the development of novel metal oxide adsorbents that efficiently remove harmful arsenic compounds from water. Her work has had a significant impact on public awareness and accountability of drinking water suppliers in Kathmandu. Organic arsenic-based compounds are extensively used as feed additives in poultry farming, and upon entering the environment, they tend to transform into more toxic inorganic arsenic through microbial activity, which can spread to surface and cause serious harm to human health. Dr. Prasai Joshi has made significant contributions to prevent the arsenic compounds from reaching the environment. She has a registered patent in China for her method of treating arsenic-containing wastewater. She received her PhD in Environmental Engineering from the University of the Chinese Academy of Sciences, for which she was awarded a medal by the President of Nepal. She has served as a member of several governmental committees in Nepal dedicated to public and environmental health, and is engaged in promoting drinking water quality through public lectures and demonstrations. She also organizes environmental awareness campaigns focused on women and school teachers in remote mountainous areas of Nepal.
---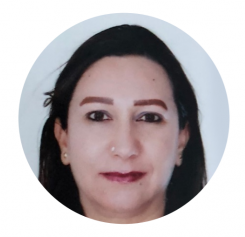 Amira Shaheen
Arab region
Epidemiology
Assistant Professor,
Department of Basic Health Sciences,
Faculty of Medicine & Health Sciences,
An-Najah National University, Palestine
Dr. Shaheen is working on improving the health care system response to gender-based violence (GBV) in Palestine. Her primary goal is to improve identification and referral of victims by health care providers. Her research interests are related particularly to women's health, child health, injuries, violence, environmental health and mental health. Her research has appeared in leading international journals including the Lancet, the International Journal of Public Health, European Journal of Pubic Health, JAMA Paediatric, PLoS One, and Archives of Suicide Research. She has successfully supervised several master students, and as a mentor she helps to facilitate the advancement of young women in public health research careers. She is a member of her university's research ethics committee, and is also an active member of several scientific communities including Child Healthcare Information For All and the International Epidemiological Association. Most recently, together with international collaborators she was awarded a grant from the British National Institutes of Health Research to enhance identification and referral of GBV cases in reproductive health settings within marginalized Palestinian populations. Dr. Shaheen received her PhD in Epidemiology and Population Health from the London School of Hygiene & Tropical Medicine. Since returning to Palestine, she carries out her research and teaches undergraduate and graduate students at An-Najah National University.