Jennifer Thomson is elected new OWSD President
May 18, 2016
Prof. Jennifer Thomson of South Africa is elected the organization's new president for the period 2016-2020.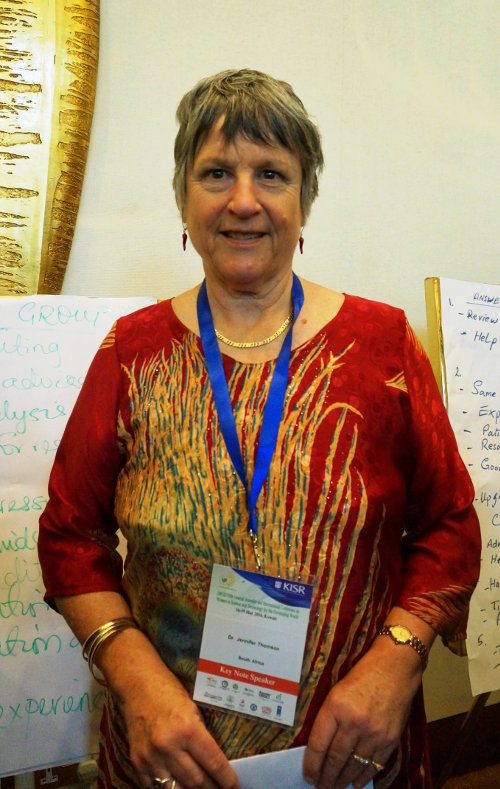 OWSD is pleased to announce that on Tuesday, 17 May, Prof. Jennifer Thomson of South Africa was elected the organization's new president for the period 2016-2020. Elections were held at the OWSD 5th General Assembly and International Conference in Kuwait City, Kuwait. All 17 nominees for the OWSD Executive Board, including for President, regional Vice Presidents and Regional Members, presented their vision for the organization and activities that they would undertake to the OWSD members in attendance at the Assembly. Immediately afterwards voting for President took place.
The votes were counted and the announcement of Prof. Thomson as the new President was made at dinner on Tuesday night to loud applause from the conference attendees. 
Prof. Thomson is currently Chair of the OWSD South Africa national chapter, where she has led the very active chapter in supporting its members through workshops on writing and presentation skills, mentoring OWSD fellowship holders in the country, highlighting successful and emerging women scientists in the country, and building regional collaborations among other activities.
She is currently Emeritus Professor in the Department of Molecular and Cell Biology at the University of Cape Town (UCT). Previously, she was Associate Professor at the University of the Witwatersrand and Director of the Laboratory for Molecular and Cell Biology for the South African Council for Scientific and Industrial Research, before becoming Head of the Department of Microbiology at UCT. Thomson has won numerous prestigious awards and fellowships, including the L'Oreal/UNESCO prize for Women in Science for Africa in 2004 and an Honorary Doctorate from the Sorbonne University. Her research field is the development of genetically modified maize resistant to the African endemic maize streak virus and tolerant to drought and she has published three books on Genetically Modified Organisms: Genes for Africa, Seeds for the Future, and Food for Africa. She is a member of the board of the African Agricultural Technology Foundation (AATF), based in Nairobi and vice-chair of ISAAA (International Service for the Acquisition of AgriBiotech Applications). She also serves on the National Advisory Council on Innovation of the South African Minister of Science and Technology.
As OWSD President, Prof. Thomson has identified as initial priorities raising the visiblity and public standing of the organization, expanding fundraising efforts, and seeking new strategic opportunities for OWSD to have a wider impact. 
To read her full vision statement for the organization as well as her complete CV, see the downloads below.