Join the Global Young Academy: GYA 2024 Membership Call Now Open!
September 08, 2023
Are you a young, independent scholar with a passion for research excellence and societal impact? If so, here's an opportunity you won't want to miss!
OWSD is excited to announce that the Global Young Academy (GYA) has opened its 2024 Membership Call. This is your chance to become part of a global network of exceptional early- to mid-career researchers who are making waves in their respective fields.
About the GYA: The Global Young Academy, established in 2010, is an independent science academy comprising 200 outstanding young scientists and researchers from six continents. Members are selected based on their academic excellence and commitment to engaging with society. With a diverse membership spanning over 100 countries, the GYA's mission is to give a voice to young scientists worldwide.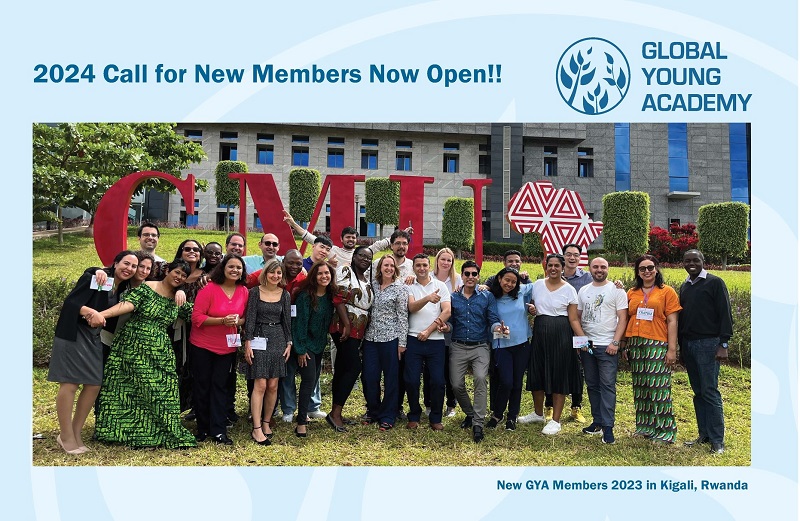 Why Join GYA?
Networking: Connect with like-minded scientists globally.
Impact: Shape international policy, promote science and education, and contribute to important discussions.
Opportunities: Engage in working groups, committees, and more.
Annual General Meeting (AGM): Participate in the 2024 AGM in Washington, D.C., USA (7 June – 10 June 2024).
Who Can Apply? The GYA values diversity and welcomes applications from all qualified candidates, regardless of background. Applications are encouraged from:
Women and minority groups
Various disciplines: Natural, physical, social sciences, arts, humanities, government, industry, and NGOs.
Individuals passionate about research impact
Application Details:
Watch the testimonial of a GYA Member
GYA Executive Committee member Maral Dadvar (Stuttgart Media University, Germany) explains what's special about how members are selected into the Global Young Academy.
Don't Miss Out! Time is running out, and the application deadline is fast approaching. Help GYA find the next generation of global young scientists who will make a difference.
Apply Now: http://globalyoungacademy.net/call-for-new-members/.
Thank you for your support in making science accessible to all and shaping the future through the Global Young Academy!