OWSD General Assembly Day 6: Virtual conference exhibit explores value of basic sciences for development
November 26, 2021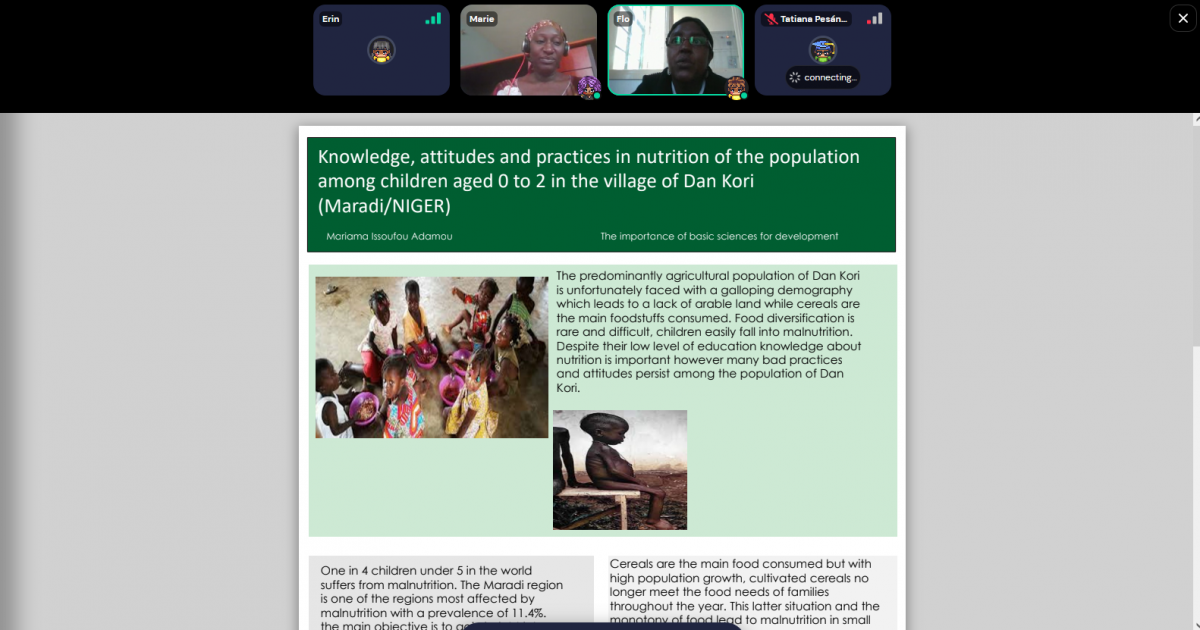 Women scientists from developing countries have showcased their research during the virtual OWSD 6th General Assembly and International Conference. On Monday, November 14, the scientists' research represented various aspects of basic sciences, in keeping with the day's theme, "The Importance of Basic Sciences for Development". 
Networking via avatars
The virtual exhibition took place in the lounge of the conference platform. Each scientist's exhibit took the form of a single-page poster containing a headline, a problem statement, a summary of the methodology, an illustrated description of the research and the conclusions. Visitors to the lounge platform toggled from one poster to another via their avatar. They "walked" towards a poster, hovered over it, pressed "X" and a few seconds later, the contents of the poster were revealed. From inside the poster, visitors were able to have a live interaction with the scientist who appeared on a video screen. In this way, scientists from Africa, India, Asia and South America were able to meet, share and cross-pollinate virtually. 
Breadth of work
Basic science is essentially scientific research that does not necessarily have a real-world application. However, the physicists, pharmacologists, microbiologists and other specialists demonstrated how their work in basic sciences contributed in a concrete way to solving real problems in the developing world. Germaine Djuidje Kenmoe, a physicist from Cameroon, exhibited a poster that described her work in reducing friction inside wind turbines so that they can perform more efficiently and emit less carbon dioxide. Thu Nandar Nyein, a physicist from Myanmar examined the benefits and disadvantages of using irradiation as a sustainable way to preserve food. Irradiation eliminates the need to use artificial preservatives and does not generate greenhouse gases. Modupe Ogunrombi, a lecturer in pharmacology at the Health Sciences University in Pretoria, South Africa, investigated whether extracts from avocado seed contained compounds strong enough to inhibit the progression of Parkinson's disease. Her poster concluded that the compounds from avocado seed were not potent enough to stop Parkinson's disease without the addition of other external compounds. 
This exhibit came after several days of debate and discussion during the conference about the value of basic sciences in developing countries when there are, seemingly, more pressing needs. On this debate, Modupe Ogunrombi said the basic sciences are important because they provide the knowledge that can be built upon for real-life applications. She said the development of the COVID-19 vaccine was a prime example of this. 
The UNESCO General Conference, in 2019, passed a resolution calling for the declaration of 2022 as the International Year of Basic Sciences for Sustainable Development. Various organizations and scientists are actively campaigning in favour of this proposal.