TWAS The World Academy of Sciences
Collaborating since: 1988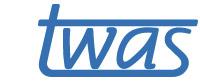 TWAS - The World Academy of Sciences for the advancement of science in developing countries - is a global science academy based in Trieste, Italy, working to advance science and engineering for sustainable prosperity in the developing world.
TWAS was founded in 1983 by a distinguished group of scientists from the developing world, under the leadership of Abdus Salam, the Pakistani physicist and Nobel laureate.
TWAS has some 1,100 elected Fellows from 90 countries; 15 of them are Nobel laureates. About 85% come from developing nations, and the rest are scientists and engineers from the developed world whose work has had a significant impact in the South. TWAS and its partners offer nearly 500 fellowships per year to scientists in the developing world who want to pursue PhDs and post-doctoral research. TWAS prizes and awards are among the most prestigious given for scientific work in the developing world.
OWSD and TWAS
OWSD is based at the TWAS offices in Trieste, Italy and the TWAS executive director underwrites all OWSD programmes.
The idea to set up what was then a 'third world' organization for women in science was first discussed at a conference convened by TWAS and the Canadian International Development Agency (CIDA) in Trieste from 3 to 7 October 1988. 218 leading women scientists from 63 developing countries attended the "Conference on the Role of Women in the Development of Science and Technology in the Third World"  and as a direct outcome of the meeting,  a study group met in March 1989  to look at the possibility of creating an organization specifically for women scientists from the developing world. It was decided to establish the then named Third World Organization for Women in Science (TWOWS) and to adopt a constitution for the organization.
OWSD continues to work very closely with TWAS. The OWSD executive board often meets at TWAS headquarters and new programmes and initiatives are often developed with input fom TWAS staff. The OWSD Programme Coordinator attends all TWAS annual meetings and there is an annual TWAS-OWSD Advisory Panel which meets so that each organization can recommend to the other ways in which they can improve their operations in order to increase the number and quality of women in science.
AuthorAID
Collaborating since: 2015

AuthorAID is a free international research network that provides support, mentoring, resources and training for researchers in developing countries. The AuthorAID community, which includes over 10,000 researchers from around the world, helps researchers in developing countries to publish and otherwise communicate their work. It also serves as a wider global forum to discuss and disseminate research.
AuthorAID is based at INASP and supported by the UK Department for International Development (DFID) and the Swedish International Development Cooperation Agency (SIDA).
AuthorAID at INASP supports researchers in publishing and otherwise communicating their work by providing the following:
online and face-to-face training in research writing skills
networking and collaboration opportunities through the AuthorAID website: www.authoraid.info, blog and discussion list
formal and informal mentoring support through the online mentoring system and an active and friendly discussion list
a resource library with a wide range of resources, in eight languages and with links to many more
small grants for travelling to conferences and running writing workshops
train-the-trainers programmes aimed at embedding training on research and proposal writing in our partner countries
Women in Global Science and Technology (WISAT)
Argentina
Collaborating since: 2009
Women in Global Science and Technology is an international non-profit which promotes women's development of science, technology and innovation. It believes that women should have equal access to technologies and participate fully in the knowledge society.