OWSD members from Central America publish article on experiences, challenges and benefits of participating in communities of women scientists
August 23, 2021
Para leer este artículo en español, haga clic aquí.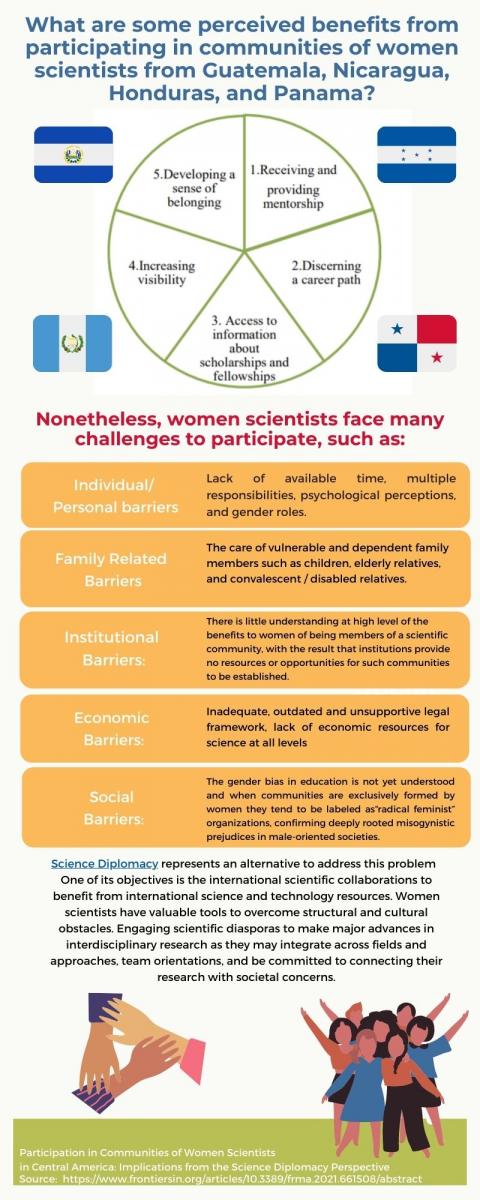 On July 12, 2021, seven women researchers, OWSD members from Central American countries, published the article:  "Participation in Communities of Women Scientists in Central America: Implications from the Science Diplomacy Perspective". In their research, Kleinsy Bonilla, Johana Cabrera, Camila Calles, Karina Aquino, Ivonne Torres-Atencio, Deysi Renderos, and Margarita Alonzo studied experiences, dynamics, motivations and barriers for Central American women scientists´participation in groups, associations, communities and networks (and other forms of collective participation) in four countries: Guatemala, El Salvador, Honduras, and Panama.
The objectives of the study were: i) exploring experiences in building scientific communities among women researchers in Guatemala, El Salvador, Honduras, and Panama, ii) and reflecting on the challenges and opportunities within the framework of Science Diplomacy.
Methodology and Data Source
The study collected data from women scientists in various fields through semi-structured interviews and a comprehensive survey.  In this way researchers explored the possible root cause for different outcomes considering barriers and obstacles at individual, institutional, economic and societal levels. Findings were gathered prominently through the collection and analysis of primary and secondary data, discussing the incentives and disincentives experienced in Central America by women scientists in building and participating in science-related communities.
The researchers used the conceptual frame offered by Science Diplomacy to provide a special focus on the synergies presented by international engagement and the implications of such cross-border exposure to enable community building among female researchers. According to the authors, "Scientific networks play an important role as a vehicle for sustainable development, cohesion and international relations, in order to address global challenges, promote understanding, and increase influence and prosperity", and also, "engaging the female scientific diasporas is critical for strengthening capacities in their countries of origin".
Findings
The main discussion and findings of the study involved three key aspects: First, the multiple barriers and obstacles that women scientists in these countries experience when considering their participation in groups/communities. Second, the perceived benefits of collective participation and third, the factors enabling/disabling such participation.
Barriers to Building and Participating in Scientific Communities for Women in Central America
| | |
| --- | --- |
| Individual / personal barriers | Related to (psychological, cultural, gender-conditioned) personal interest, aptitude, persistence, lack of resources, perception of lack of family and social support, psychological insecurity, poor health, low self-esteem |
| Family-related barriers  | Related to childcare, care responsibilities for convalescent/disabled relatives, families not conducive to female education and empowerment |
| Institutional barriers | Related to unsupportive or discriminatory rules and structures and their implementation, lack of access to educational programs and educational and science curriculums of quality, lack of support to the family structure, lack of incentives, lack of institutional wellbeing dynamics in general - culture of isolation and non-cooperation, lack of education and training of soft skills, e.g., leadership for women |
| Economic barriers | Inadequate, outdated and unsupportive legal framework, lack of economic resources for science at all levels |
| Social barriers | Scarce relevance given to science at all levels, direct and indirect violence against women, underrepresentation of women in decision making processes at all levels |
Benefits and Motivations to Participating in a Community of Women Scientists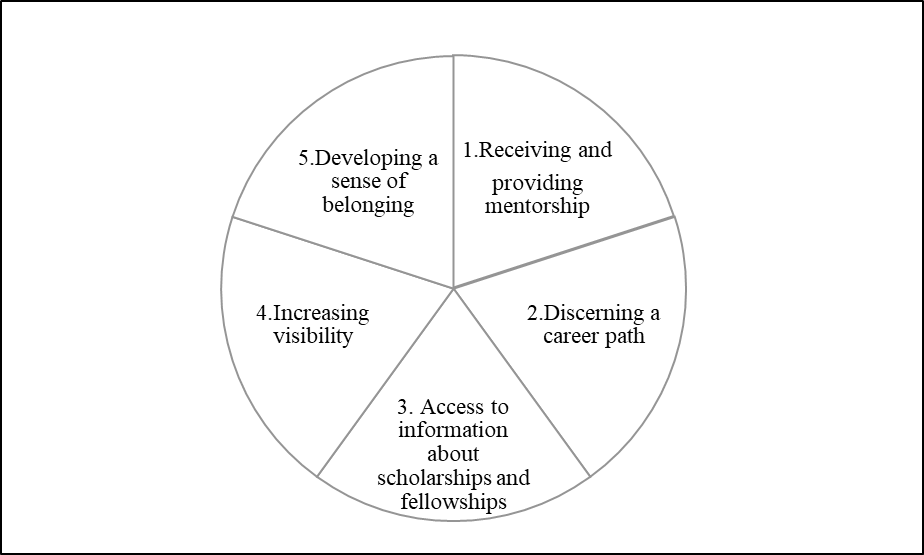 Enablers and Disablers in Community Building among Women Scientists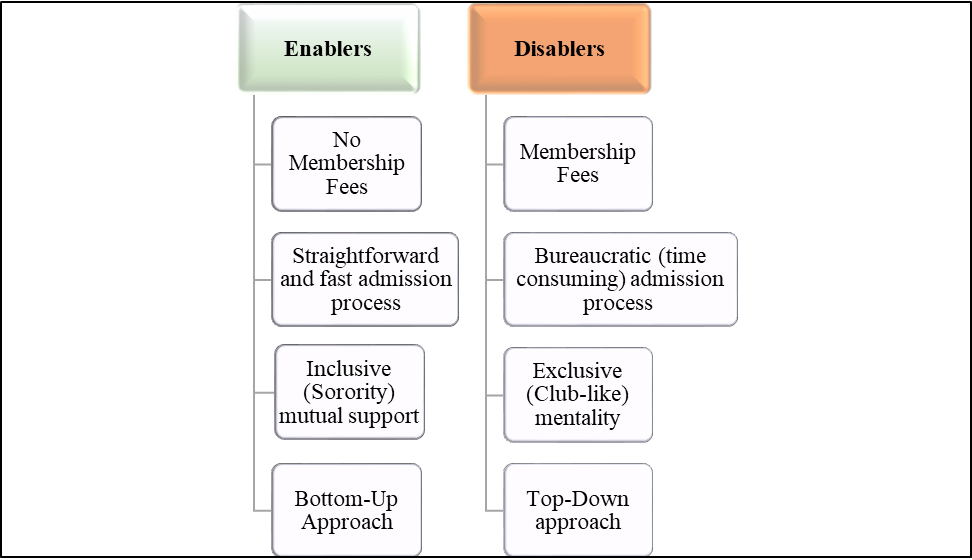 Conclusions
Central America faces pressing unbalanced female representation in science. The significant gaps that the region faces in terms of S&T capacities are also reflected in the limited experiences within the region in building communities among women scientists. While exceptional networks among women scientists have been reported, the gender perspective has been given marginal attention. Valuable initiatives were identified aiming at organizing groups of women scientists.  However, some of these initiatives were episodic interventions with no sustainability. In other cases, well-intentioned leaders mobilized an important number of researchers to form communities, yet different factors impeded the communities to survive, and they faded over time. In other words, the few cases of community building among scientists in Guatemala, El Salvador, Honduras and Panama, are meaningful and provide lessons to understand why the experiences are scant, which highlights the different barriers faced particularly by women researchers. In scientifically lagging countries, the construction of communities of women scientists is of special relevance, as the number of well-trained researchers is still low and the actors involved in the research ecosystems are still developing. Community building among women scientists in Central America offers an array of opportunities and benefits that can have a positive impact on their individual career development. More importantly, increasing the presence of women in science and inspiring children and young girls reduces the pervasive gender gaps in science which are evident in these countries.
Collaboration between OWSD National Chapters in this research
This research depended on international collaboration between various OWSD National Chapters. The study itself brought together members from various Central American countries. Additionally, members from the OWSD South Africa National Chapter collaborated with proofreading of the English manuscripts. In addition, OWSD Coordinator Tonya Blowers provided inputs and comments on the research.
Versión en Español
Miembros de la OWSD de varios países centroamericanos, publicaron un artículo sobre Experiencias, retos y beneficios de participar en comunidades de Mujeres Científicas
El 12 de julio de 2021, siete investigadoras, miembros de la OWSD de países centroamericanos, publicaron el artículo: Participación en comunidades de mujeres científicas en Centroamérica: Implicaciones desde la perspectiva de la diplomacia científica. En su investigación Kleinsy Bonilla Johana Cabrera Camila Calles Karina Aquino Ivonne Torres-Atencio Deysi Renderos y Margarita Alonzo estudiaron experiencias, dinámicas, motivaciones y barreras para la participación de las científicas centroamericanas en grupos, asociaciones, comunidades y redes (y otras formas de participación colectiva) en cuatro países: Guatemala, El Salvador, Honduras y Panamá.
Los objetivos del estudio fueron: i) explorar las experiencias de construcción de comunidades científicas entre mujeres investigadoras en Guatemala, El Salvador, Honduras y Panamá, ii) y reflexionar sobre los retos y oportunidades en el marco de la Diplomacia Científica.
Metodología y fuente de datos
El estudio recogió datos de mujeres científicas de diversos campos mediante entrevistas semiestructuradas y una encuesta exhaustiva.  De este modo, los investigadores exploraron las posibles causas de tales resultados, considerando las barreras y los obstáculos a nivel individual, institucional, económico y social. De manera destacada, a través de la recopilación y el análisis de datos primarios y secundarios se discutieron los incentivos y desincentivos que experimentan las mujeres científicas en Centroamérica para construir y participar en comunidades relacionadas con la ciencia.
Las investigadoras utilizaron el marco conceptual que ofrece la Diplomacia de la Ciencia para dar un enfoque especial a las sinergias que presenta el compromiso internacional y las implicaciones de dicha exposición transfronteriza para permitir la construcción de comunidades entre las investigadoras. Según los autores, "las redes científicas desempeñan un importante papel como vehículo para el desarrollo sostenible, la cohesión y las relaciones internacionales, con el fin de abordar los desafíos globales, promover el entendimiento y aumentar la influencia y la prosperidad", y también "involucrar a las diásporas científicas femeninas es fundamental para fortalecer las capacidades en sus países de origen".
Hallazgos Principales
El debate y las conclusiones principales del estudio se refieren a tres aspectos clave: En primer lugar, las múltiples barreras y obstáculos que experimentan las científicas de estos países al considerar su participación en grupos/comunidades. En segundo lugar, los beneficios percibidos de la participación colectiva y, en tercer lugar, los factores que posibilitan o impiden dicha participación.
Barreras para la participación de mujeres científicas en comunidades en Centroamérica
| | |
| --- | --- |
| Individual / barreras personales | Relacionado con interés personal, aptitud, persistencia, falta de recursos, percepción de falta de apoyo familiar y social, inseguridad psicológica, mala salud, baja autoestima |
| Barreras relacionadas con el contexto familiar | Relacionado con el cuidado de los niños, responsabilidades de cuidado de familiares convalecientes / discapacitados, familias que no apoyan a la educación y el empoderamiento de las mujeres |
| Barreras Institucionales | Relacionado con normas y estructuras institucionales deficientes y su implementación, falta de acceso a programas y currículos educativos y científicos de calidad, falta de apoyo a la estructura familiar, falta de incentivos, falta de dinámica de bienestar institucional en general - cultura de aislamiento y no -cooperación, falta de educación y formación de habilidades blandas como liderazgo para mujeres |
| Barreras Económicas | Marco legal inadecuado, desactualizado y sin apoyo, falta de recursos económicos para la ciencia en todos los niveles, precariedad laboral |
| Barreras Sociales | Escasa relevancia dada a la ciencia en todos los niveles, violencia directa e indirecta contra la mujer, subrepresentación de la mujer en los procesos de toma de decisiones a todos los niveles |
Beneficios y Motivaciones para Participar en una Comunidad de Mujeres Científicas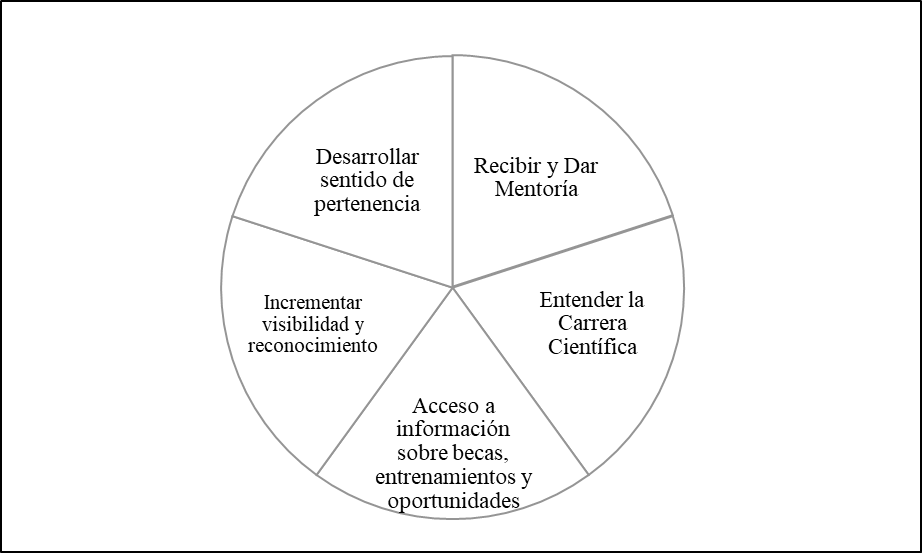 Factores habilitantes y inhabilitantes en la construcción de comunidades entre mujeres científicas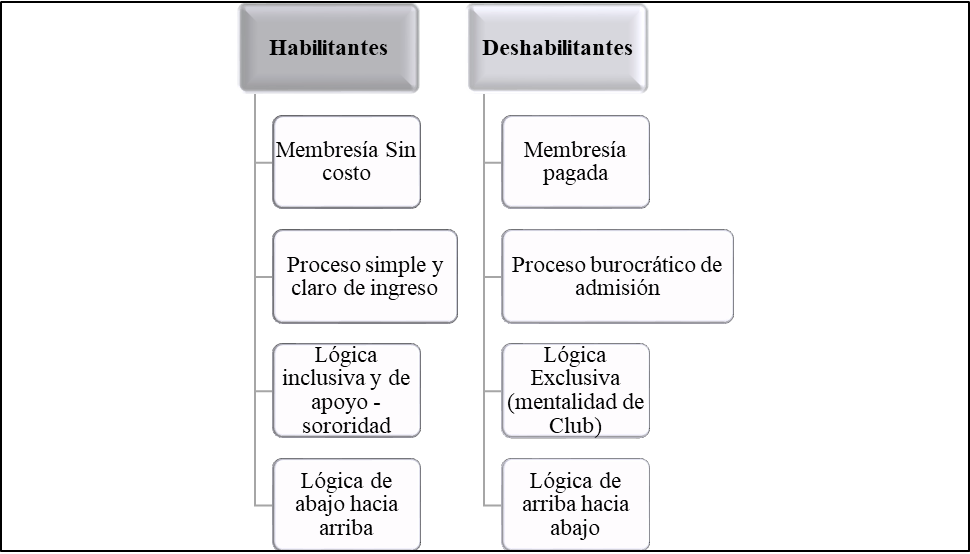 Conclusiones
Centroamérica se enfrenta a un desequilibrio acuciante en la representación femenina en la ciencia. Las importantes brechas que enfrenta la región en términos de capacidades científicas y tecnológicas se reflejan también en las limitadas experiencias que la región tiene en la construcción de comunidades entre mujeres científicas. Aunque se ha informado de la existencia de redes excepcionales entre mujeres científicas, la perspectiva de género ha recibido una atención marginal. Se identificaron valiosas iniciativas destinadas a organizar grupos de mujeres científicas.  Sin embargo, algunas de estas iniciativas fueron intervenciones episódicas sin sostenibilidad. En otros casos, líderes bien intencionados movilizaron a un número importante de investigadoras para formar comunidades, pero diferentes factores impidieron que las comunidades sobrevivieran y se desvanecieron con el tiempo. En otras palabras, los pocos casos de creación de comunidades entre científicos en Guatemala, El Salvador, Honduras y Panamá, son significativos y proporcionan lecciones para entender por qué las experiencias son escasas, lo que pone de manifiesto las diferentes barreras a las que se enfrentan especialmente las investigadoras. En los países científicamente rezagados, la construcción de comunidades de mujeres científicas tiene especial relevancia, ya que el número de investigadoras bien formadas es todavía bajo y los actores involucrados en los ecosistemas de investigación están todavía en desarrollo. La construcción de comunidades de mujeres científicas en Centroamérica ofrece una serie de oportunidades y beneficios que pueden tener un impacto positivo en el desarrollo de sus carreras individuales. Y lo que es más importante, aumentar la presencia de las mujeres en la ciencia e inspirar a los niños y a las niñas reduce las brechas de género omnipresentes en la ciencia que son evidentes en estos países.
Colaboración entre los capítulos nacionales de la OWSD en esta investigación
En esta investigación es interesante la colaboración internacional entre varios Capítulos Nacionales de la OWSD. Por un lado, el estudio reunió a miembros de varios países. Por otro lado, los miembros del Capítulo Nacional de la OWSD de Sudáfrica colaboraron corrigiendo los manuscritos en inglés. Además, Tonya Blowers, coordinadora de la OWSD, hizo aportaciones y comentarios sobre la investigación.